In Texas, Christmas Providers is a non-profit organization that assists less fortunate families with children by providing Christmas for them using an adopt-a-family approach. For 15 years, ACE Cash Express has adopted families, fundraised, shopped, and delivered gifts and meals during the holiday season.
This holiday, it was more important than ever to make magic happen for families in need. ACE teams stepped up to serve three families in the HEB and Birdville school district regions of North Texas.
Team members Erik R., Christi B., and Ramona B. (pictured left to right) share their shopping receipts
Christi B., Executive Assistant in Operations at ACE for 17 years, leads the Christmas Providers program each year. "My role is to raise enough money to shop for each family and to make sure their gifts and food are delivered before Christmas." She says she loves the organization. "Not only do we get to adopt the families, but we also get to meet them when we deliver their stuff! The Christmas Providers program has been open since 1984!"
The Christmas Providers organization works closely with school counselors at two partner school districts in North Texas to select families that are most in need. Organizations like ACE "adopt" families after they are recommended to Christmas Providers. "We tell Christmas Providers how many families we want and what size [families]," says Christi. "They try their best to match us with who we want – we typically adopt families with elementary kids. They are the easiest to shop for, and your money goes a long way with them. I always make sure we get families with teenagers, too, since I know some [organizations] stray away from them due to their wish lists being a little on the pricey side."
Christmas Providers requires that all adoptive organizations provide a Christmas dinner and at least one gift for each family. But, as Christi says, "at ACE, we go above and beyond that. We not only provide [families] with a grocery gift card, but we also get EVERYTHING (within means) that is on their wish list. Once we are done shopping we deliver right away. We try to coordinate [delivery] times [for] when the kids are in school, so they don't see the gifts. We also purchase wrapping paper and all the trimmings to give the parents the real Christmas experience." Meanwhile, children at the adopted families' schools host a food drive to provide non-perishable items that are also included in the delivery.
This year, ACE selected three families to adopt. The first included a single mom with four kids who was laid off from her job in July. She had been visiting a local church each week to get food to feed her family. The second family included a pregnant single mom with two kids who had escaped a domestic abuse situation. She and her family have been living in a shelter for six months and will be moving into her first apartment in January after being on the apartment waitlist since May 2019. The final family selected this year included a mom and dad with three kids. These parents work in the hotel industry and were laid off in August.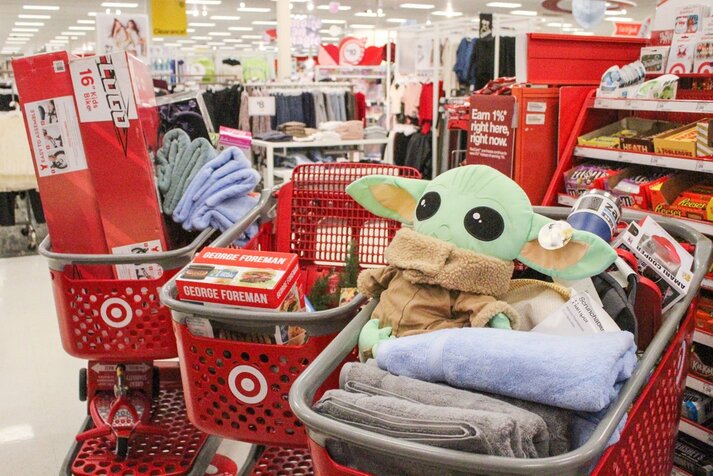 Items on the families' lists included kids' toys, home goods, and school supplies
ACE is dedicated to going above and beyond to deliver a happy holiday to the families that are adopted. The process begins by setting a fundraising goal. A dollar amount is chosen to provide the Christmas meal and the items on each family's wish list. Then, Christi kicks off the fundraiser. This year, as corporate teams were working from home, funds were raised 100% virtually. Within four days (a company record!), the goal was reached. From there, Christi planned the holiday shopping excursion.
To help make the magic happen, other team members often step in to help Christi shop for the adopted families. Ramona B., the Senior Manager of Store Operations and Strategy at ACE for a little over two years, is one of those team members. Her role in the program is to "assist with purchasing and delivering gifts and food to the families. Christi is the main person for this program, and she does such a great job working with Christmas Providers. She is so well-organized!"
For Ramona, the shopping portion of the program is an amazing experience. "I am always in awe of the people in the stores and just random customers who ask us what we are doing and how they can help," she says. "Last year we were buying gift cards for the families and were leaving the store when we were approached by a woman who wanted to give us cash! We didn't know her, but she saw us in the store and asked one of the clerks what we were doing. She said she was very blessed and wanted to help! This year we were at Target and the Store Manager and staff were so nice. [The Store Manager] offered us water or Starbucks and then asked if our families needed trees! We said YES and he brought out three HUGE Christmas Trees! We delivered them to the families, and they were so happy. We never ask for anything, but people come through all the time!"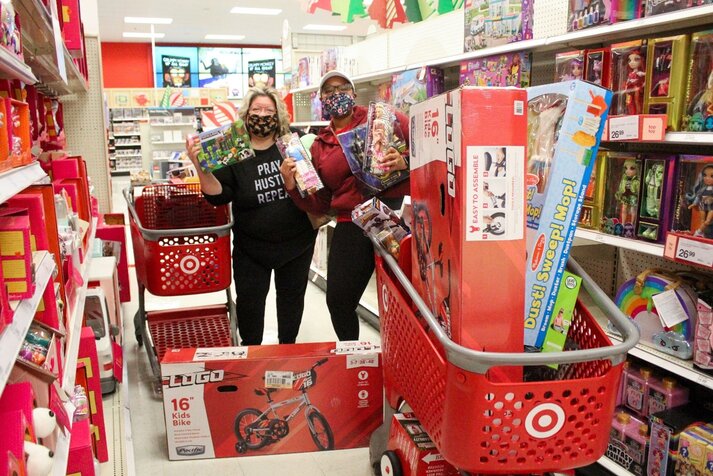 Ramona B. and Christi B. share some of their toy finds while shopping for families in need
The Christmas Providers program is more than just an opportunity to help others. As Christi says, it is life changing. "It means the world to me," she says. "I look forward to this every year because I know how much it means for our families to receive such a generous gift from complete strangers."
For both Christi and Ramona, the families they serve leave a lasting impression. As Ramona shares, "each year it just turns into a cry-fest!" Christi adds that one family from the beginning has stayed with her personally ever since. She shares their story:
"Our company adopted them one year, and I fell in love with all the kids. The next year I tried to adopt them personally, but they were already taken so I just purchased gifts to deliver to them. They have such a unique story that touched my heart. The biological mom had four kids, and she went to jail. The grandmother had to take over all by herself. She shared this with me on my first phone call with her. I wanted to do everything to make their Christmas special. Ever since that first encounter with her, I wanted to be a part of their story. My family adopts them EVERY year and takes a gift to them. It has been amazing buying baby dolls for the girls back then and now buying makeup. It is really special. I received a call a few months ago from the grandmother's sister letting me know that she had COVID and may not make it. I was devastated. I spent the next week figuring out what we could do to help. She ended up pulling through. We are delivering gifts to them next week."