"We're all veterans of life."
Jeff Morris, Author and Vice President of Retail Operations at POPULUS FINANCIAL GROUP, didn't set out to be a writer. But after serving multiple deployments in the U.S. Army as a Commander and experiencing a dramatic shift in perspective, he felt drawn to share his story with the world.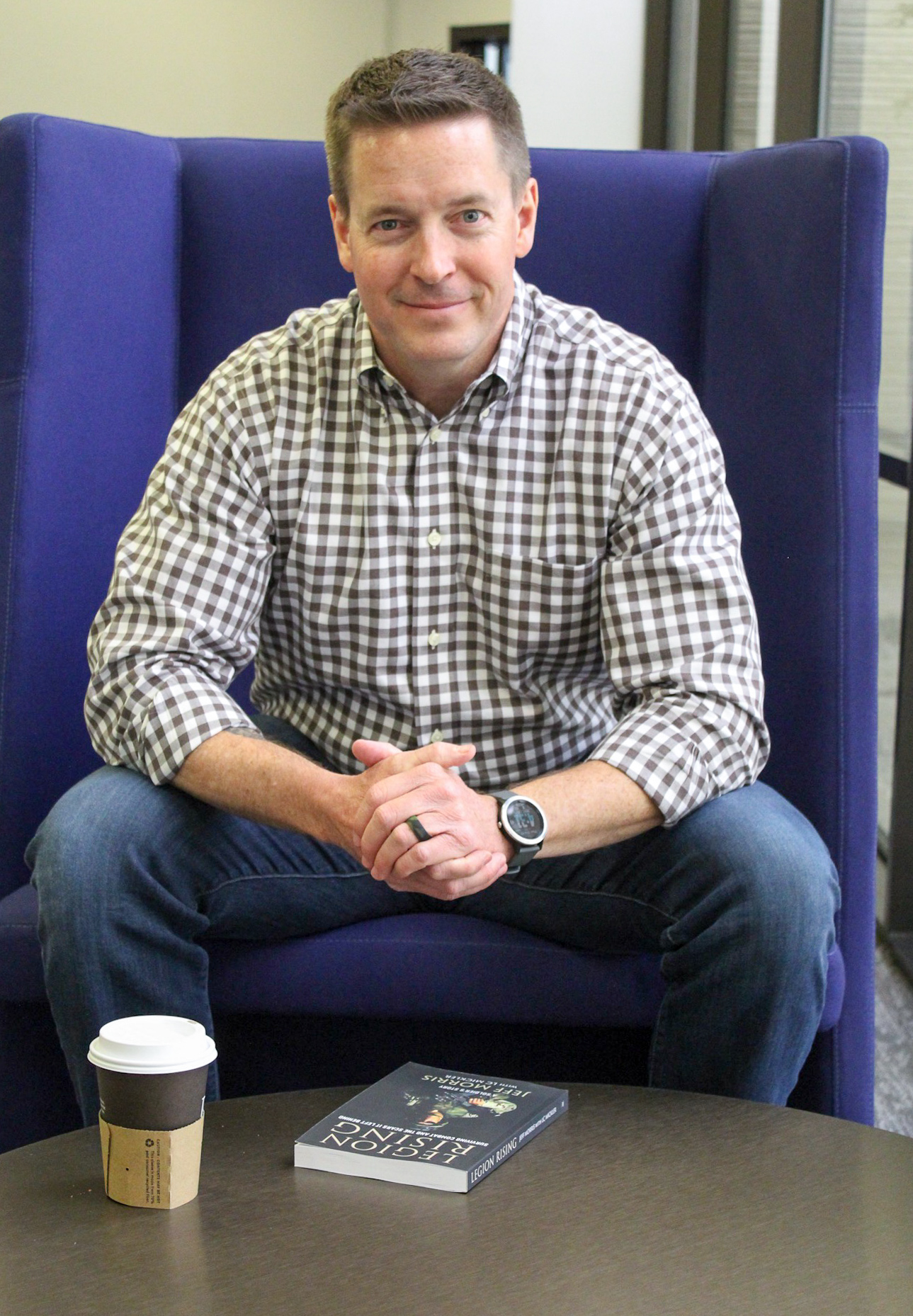 Hurting and Healing as a Veteran
Jeff's story is one of overcoming challenges and healing from the trauma of war. During his time as an Infantry Officer in the U.S. Army from 2003-2008, Jeff led many missions, but it was the events of March 15, 2007 in Baghdad, Iraq that changed him forever.
That day, six soldiers under his command lost their lives and two more were killed in the following months - a group Jeff now refers to as "Legion 8".
His memoir, Legion Rising: Surviving Combat and the Scars It Left Behind, dives into the challenges and personal trauma associated with that day and beyond. Revisiting those wounds was hard, but Jeff felt that the power of his story reached beyond his own painful memories.
"Tragedy and trauma don't discriminate," he says. "At the end of the day, we're all veterans of life and if you know the story there's a message of acceptance. I didn't just accept all these things one day, there's no magic cure. It takes hard work."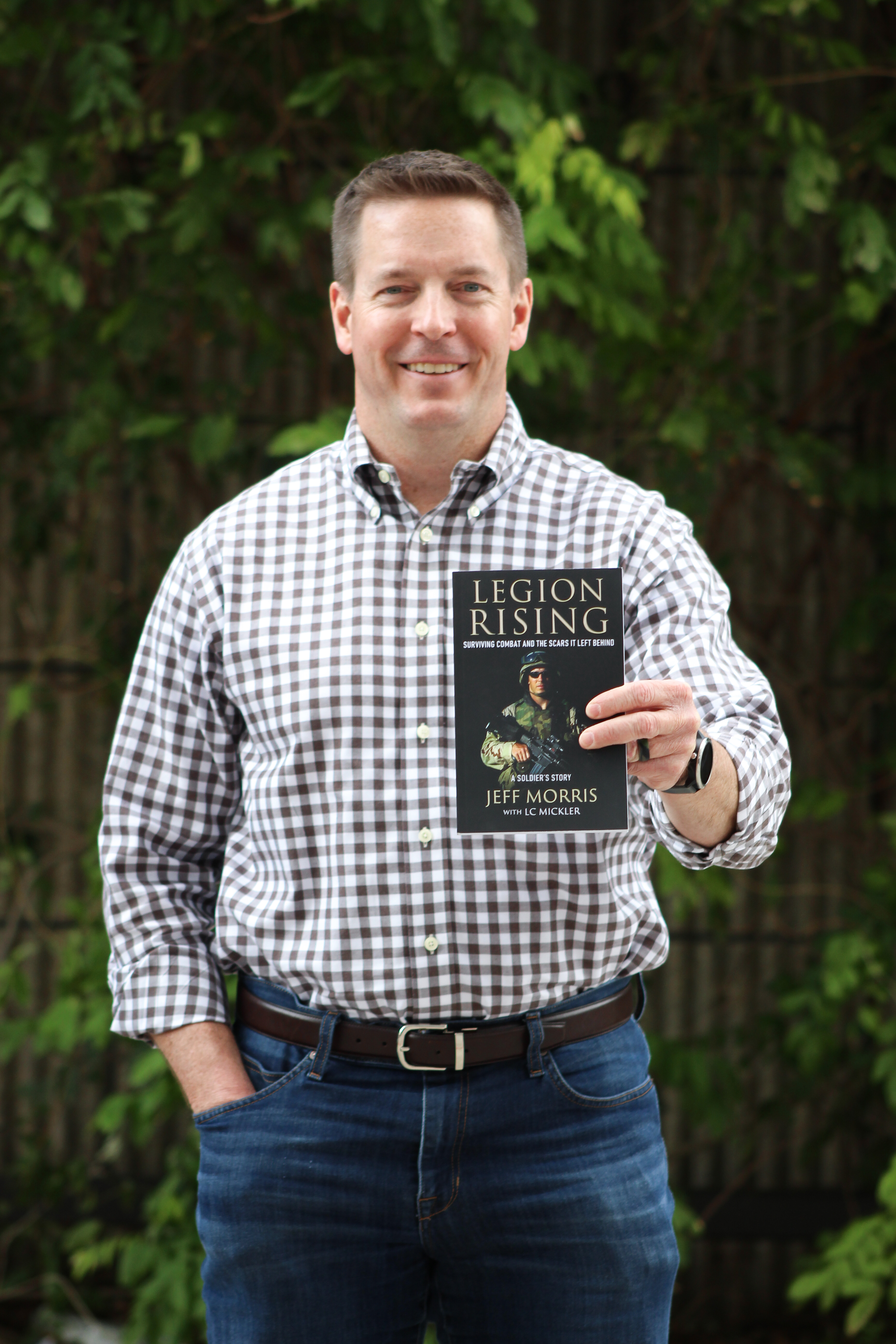 Telling A Powerful and Personal Story
Jeff didn't consider himself to be a writer, but once he decided that his story had the potential to bring a message of hope to others, he set about bringing it to life. He partnered with co-writer LC Mickler, a blogger who had written a post about him. Together, over many text messages, conversations, and voice memos, the book began to take shape.
A year later, Jeff and LC found an agent and set about contracting with a publisher. The book was released to the public in July 2019.
"Everybody has a story," says Jeff. "There is something interesting about everybody that somebody out there will enjoy and find interesting."
Have you ever wanted to write a book about your life, or share a story with the world? Here are Jeff's tips for writing, getting published, and marketing your book.
Do it for the Right Reasons
"I knew why I wanted to do it, but my fear was that no one had ever heard of me," Jeff confesses. "Plus, this story is very real, very raw. I knew I would be opening up scars for some people of the worst day of their lives."
Understand why you feel compelled to tell your story. A story that brings truth to light is one worth sharing.
Realize Your Limitations
Jeff didn't have any experience as a professional writer before beginning the process writing Legion Rising. He knew he needed guidance from someone who had the skills to complement his capabilities.
"I realized pretty quickly that I couldn't do this alone, so I asked for help. And it's definitely the smartest decision I've ever made."
Asking for help might look different for you and your situation. You may find that a partner, mentor, editor, or other skilled person can help you bring your idea to life.
Decide if You Want to Self-Publish or Go Professional
For Legion Rising, Jeff knew he wanted to seek the validation of a big publisher. He says that for others, self-publishing could be a good option.
Determine the market for your book. Legion Rising falls under the categories of True Crime and Military Memoir – two crowded publishing spaces.
"We wanted the validation of a publishing house," Jeff says. "Figure out what validation looks like for you and make the decision from there.
Network and Meet People
"Do some pre-work before [starting the publication process] to find avenues or people who can introduce you to book agents."
Jeff and LC found their book agent through networking and worked closely with him throughout the publication process.
"It was a lot of listening and getting advice from someone that we built a relationship with that we could trust."
Don't Take Things Personally
When Jeff and LC sent Legion Rising to an editor, they found that the book they'd fallen in love with wasn't perfect. It became more important than ever to remember the reason they'd started the process in the first place. They chose carefully which edits made sense and which didn't for the purposes of their book.
Jeff says, "if you say 'no' to something, don't do it because you don't like what they said. Do it because you believe in the point you're trying to get across. And, certainly, don't take book rejection personally."
"Realize that to you, you're passionate about [your book] and you love it. For them, it's a question of 'can we make money off this?'.
Be Ready to Sell Your Own Book
Jeff puts it plainly when he says: "your book will sell because you sell it."
As a full-time employee and father of four, he understands that his ability to make sales comes down to his effort.
"[Retail Operations] is my career and then on nights and weekends I just find opportunities to get out and spread the word about the book and speak and share it."
You can find Jeff Morris' military memoir, Legion Rising: Surviving Combat and the Scars it Left Behind on Amazon.