The ACE Community Fund
---
ACE Cash Express gives back through our community involvement, sponsorships, and donations.
Community Engagement
ACE Cash Express is dedicated to the community through corporate giving and supporting organizations that help children, support education, and promote financial literacy.
Community is the core of everything we do. We know we wouldn't exist without our customers and employees and we are proud to support the communities in which they live. Together with our community, ACE Cash Express is working to build stronger communities.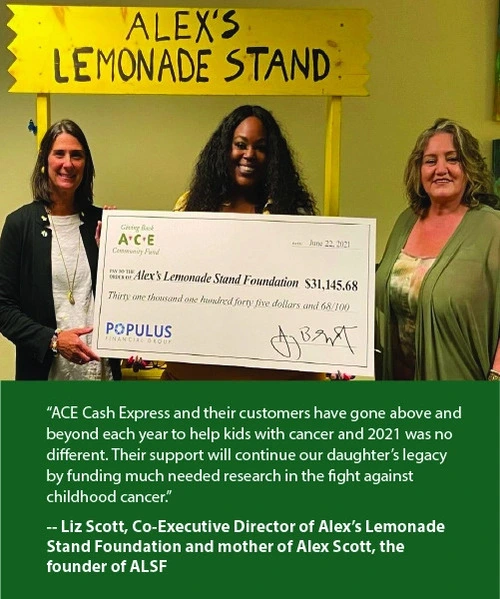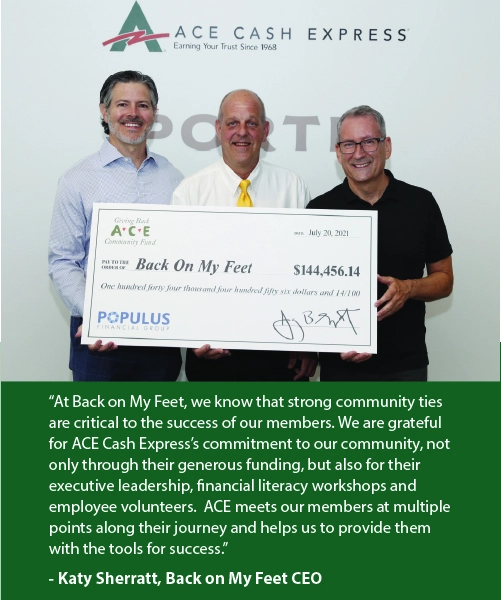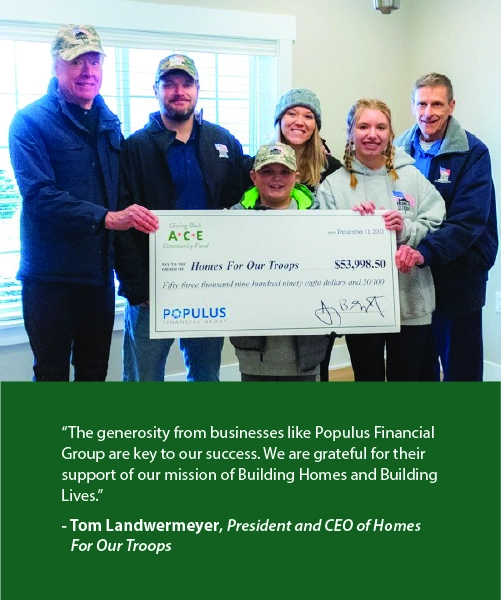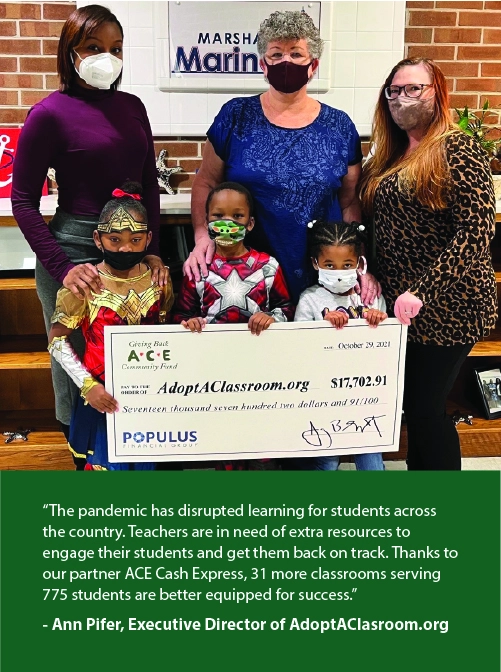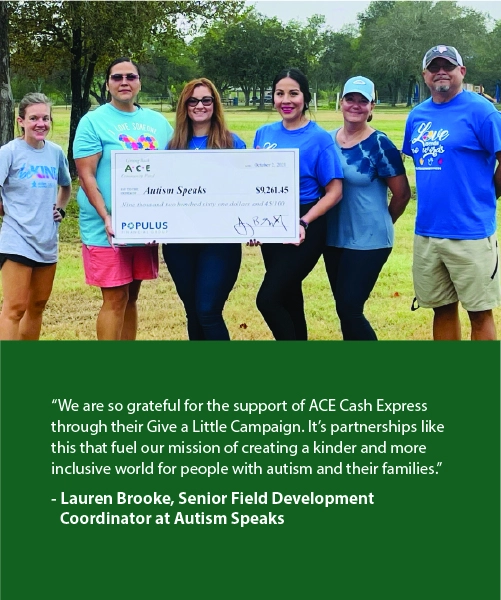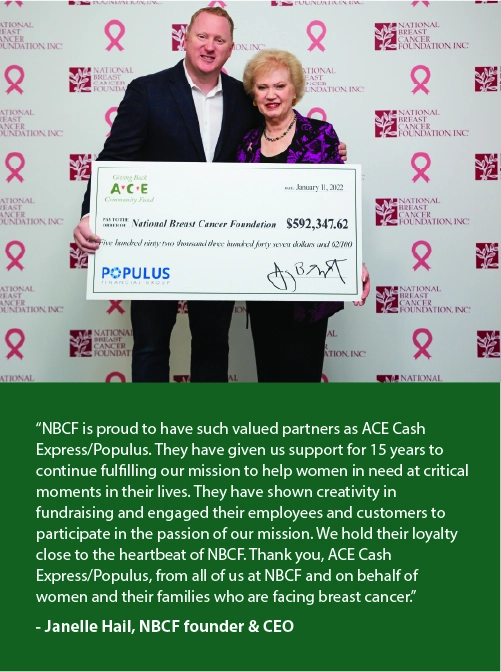 In 2021, the ACE Community Fund donated over $1 million to charities across the nation.
Since 2004, we have donated more than $16 Million to communities in need thanks to the generous support of ACE employees and customers. Our corporate giving program, ACE Community Fund, works with transformative charities across the country to give back to the community.
Our stores participate in fundraising efforts as well, through initiatives like our annual Give A Little campaign, during which our retail associates choose a charity to support during the month of May.
ACE's Proud Partnership with National Breast Cancer Foundation
---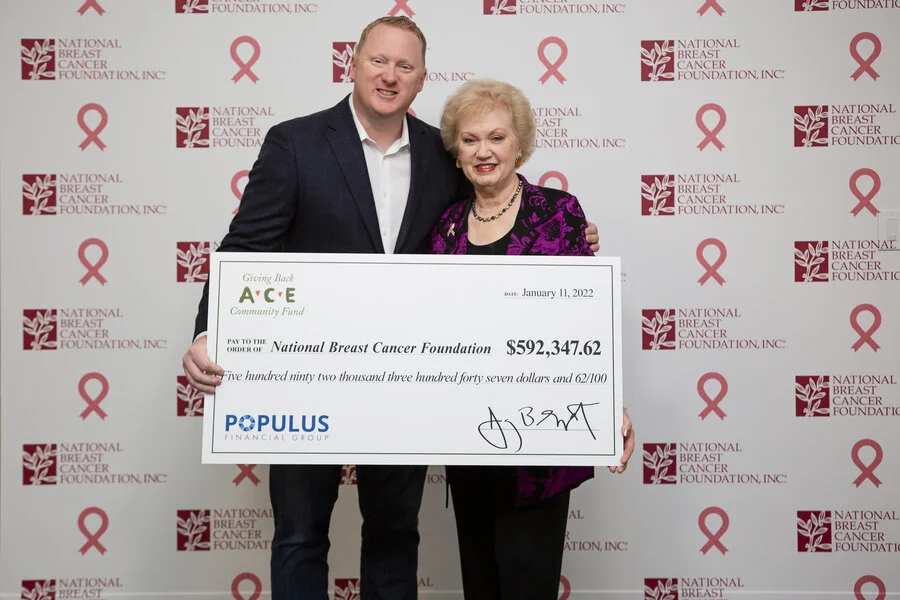 Watch the "Thank You" Video from National Breast Cancer Foundation
We want to build a more caring community together. This vision is showcased in the amazing philanthropy of our team members and the charities we serve, like our 15 year partnership with National Breast Cancer Foundation. By partnering with Netspend and donating to NBCF, we hope to help those affected by breast cancer through early detection, education and support services.
ACE Partners with Alex's Lemonade Stand
---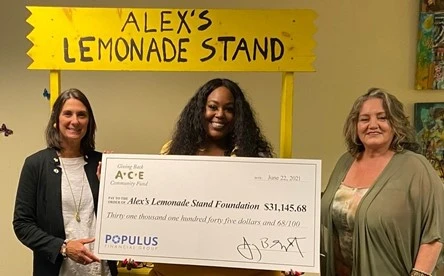 The Give A Little Campaign is a national in-store fundraiser that supports charities selected by ACE employees. By supporting Alex's Lemonade Stand Foundation, ACE is funding research for better diagnostics and treatment for pediatric cancer.
What The Charities Love About Us
---
AdoptAClassroom.org
"The pandemic has disrupted learning for students across the country. Teachers are in need of extra resources to engage their students and get them back on track. Thanks to our partner ACE Cash Express, 31 more classrooms serving 775 students are better equipped for success."
- Ann Pifer, Executive Director
Autism Speaks
"We are so grateful for the support of ACE Cash Express through their Give a Little Campaign. It's partnerships like this that fuel our mission of creating a kinder and more inclusive world for people with autism and their families."
- Lauren Brooks, Senior Field Development Coordinator
Careers
---
Interested in joining ACE Cash Express? We are always looking for dedicated, talented people to become a part of our team.