Inexpensive Ways to Make Summer Memories
Summer is right around the corner, and it can be hard to come up with fun, safe, and cheap summer activities to enjoy with your family. In this article, we list 12 affordable summer activities you can do while staying safe.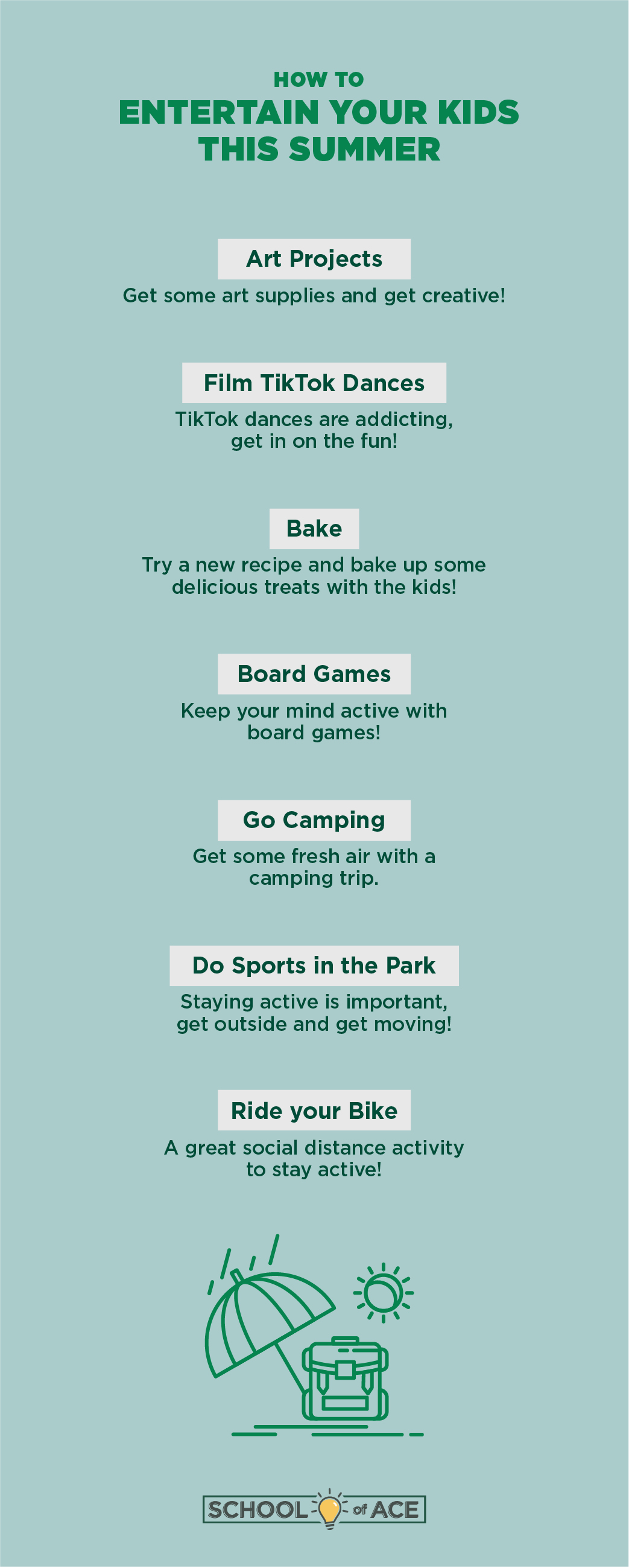 What to do with kids in the summer?
If you're looking for ways to entertain your kids while they're on summer vacation, here are some summer activities to consider:
Start an art project: Use painting materials or colored pencils to drawing things you see around your house.
Film TikTok dances: Filming TikTok dances is all the rage. Get involved by doing some TikTok dance challenges with your kids.
Bake or cook new recipes: There's nothing better than making delicious treats with your kids during the summer. Pick a new recipe to try–maybe one from a different country or with a new ingredient.
Play games or solve a challenging puzzle: Cards, board games and puzzles are fun indoor activities that the whole family can enjoy. You can learn to play various games with a deck of cards like War, Crazy Eights, or Slapjack.
Exercise around the neighborhood: Exercise is important for everyone in the family. Enjoy a family bike ride or nice walk around the neighborhood.
Read a book from your local library: You should encourage your child to continue learning and reading during the summer. The local library might have a summer reading list for specific grade levels or age ranges.
Play at the park: Playing a sport or an activity like tag at the park is a fun way to get everyone moving in the sun.
Enjoy a movie night: With Netflix or another streaming websites, you can have your very own movie night at home with your family.
Host a yard sale: If you need to make some extra cash, there's no easier way than to hosting a yard sale.
Go camping: Summer is the perfect time to go camping, whether in the woods or your backyard.
Teach your pet a new trick: If you have a dog or a cat, you can spend time teaching them new tricks.
Have a water fight: It's not summer without playing in the water! Get buckets or use a garden hose to get started.
Conclusion
Having fun during the summer with kids doesn't have to be expensive. By getting creative and using your imagination, you can explore and discover new and fun summer activities that both you and your kids can appreciate. To learn more cost-effective activities you can do with your kids, or learn personal finance tips and tricks, continue to come back to our School of ACE blog.