The cost of childcare in the U.S. is higher than ever. In fact, a report from ChildCare Aware of America shows that daycare costs around the country range from $5,000 to more than $20,000 annually.1 That's a lot of money to care for little ones.
If you're one of millions of working parents in the U.S., you're always hunting for ways to save money on daycare costs. Luckily, there are a few ways you can without making drastic changes to your lifestyle.
Ways to Save Money on Childcare
Save Money At Daycare
Do a Rate Review - Just because you've "been with them forever" doesn't mean they're the best choice. Call around to daycare providers nearby and request rates. You can even make an afternoon of it and drop by locations you pass on your commute (places you know will be convenient for your daily drive.)
Look into Home-Based Childcare - Some childcare providers offer services in their homes. With these providers, you'll want to do your due diligence and make sure the provider is a good fit for your child. Sites like care.com and urbansitter.com can help improve this process with real reviews and trusted processes.
Pay Monthly Instead of Weekly - Most daycare facilities charge in weekly or bi-weekly payments, which is helpful when you have a vacation or other event planned. No need to pay for a week of care you won't use! However, sometimes paying monthly can result in lower fees. Talk to your daycare provider to see if you can save a percentage of your rate by paying monthly vs. weekly.
Save Money At Work
Ask HR About Childcare Benefits - Your company may offer special benefits for employees seeking childcare. This could include a Dependent Care Account, discounts at local providers, or other incentives. Your HR representative has likely heard it all. They could offer some advice on how to find great childcare based on previous employees.
Look Into Dependent Care FSAs - this type of pre-tax benefit account works like your typical Flexible Spending Account, but is designed as a way to save money on eligible childcare expenses. Ask your HR representative about this type of FSA or other benefits.
Consider A Shift Change - Depending on the type of job you have, you may be able to switch up your work schedule to help accommodate childcare. This could be a money saving tip, especially if you're paying for childcare by the hour. Simply switching from a 9 to 5 schedule to a 7 to 3 could help save hours of costs each week.
Save Money At Home
Find a Local Babysitter - You could be saving money on afterschool care by choosing a local babysitter. If you're close to your neighbors, ask if anyone's older child or teen would be interested in making some money as a babysitter. You can also refer to sites like Care.com for great local options that are cheaper than large facilities.
Seek the Help of Other Local Families - Reach out to your child's school, or a local school in your area, and ask about parent's groups. You may be able to partner with a family on your street or stay-at-home parents to babysit your child until you return home. This will likely help you save money on childcare, and turn into a good way to make friends in the neighborhood, too.
With a lot of research and a little tenacity, you can save money on costly childcare bills. Finding a great childcare option for your family's needs can be a challenge, but these tips can help you begin to offset those costs.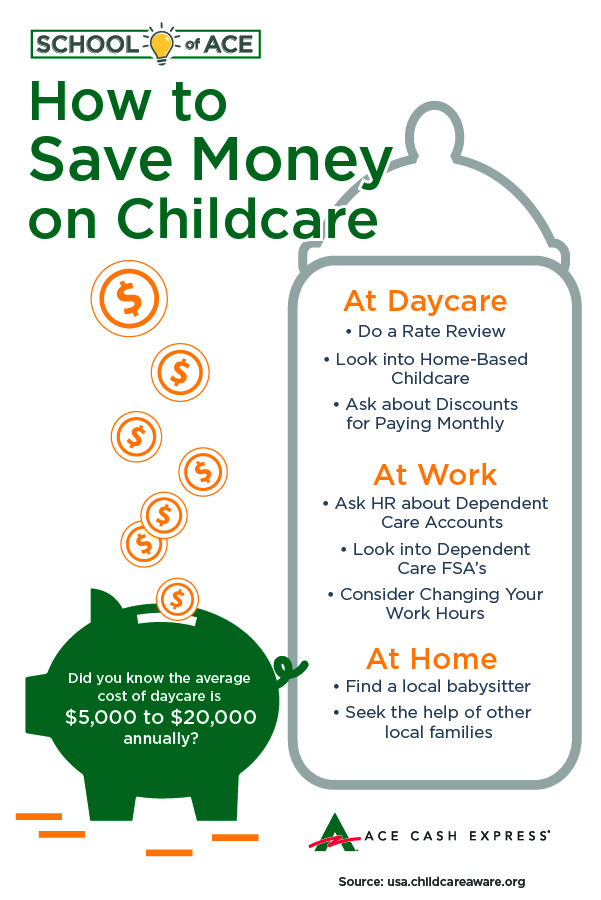 Did you find this article helpful? Share it with your friends and spread the savings.