Valentine's Day doesn't have to be a drain on your wallet. If you're interested in saving money for gifts, all you need is a little bit of creativity. There are plenty of ways to show someone that you love them that don't require you to spend a penny. There are also at-home date night ideas that will have your loved one swooning! Here are some of ideas to consider:
How to Show Someone You Love Them
Write love notes
What better way to celebrate Valentine's Day and show your love for someone than with cards? You may have said "I love you" a million times, but how many times have you put your words down on paper? Whether you write a dozen little love notes throughout the week or consolidate them all into one epic love poem, be specific and write out what you love about someone to make them feel special.
Do something they enjoy (even if it's not your preference)
Saving money for gifts is easy if you're willing to do something with your loved one that they love (even if you don't normally enjoy it). If your mom's always trying to get you to watch her favorite black-and-white films with her and you've successfully avoided it for years, now's the time! Grab a bowl of popcorn and set aside time for her (even virtually). Doing something for someone else that you know they'll enjoy, even if it's not your preference, will mean a lot to them.
Do the chores they enjoy the least
Speaking of things you enjoy, another great idea to show love is by taking on chores for others. Does your husband dread cleaning out the garage? Surprise him by rolling up your sleeves and tackling the task for him. Sometimes the greatest gift we can give someone is the relief of knowing that the chore they've been dreading is now off their plate.
Inexpensive Date Ideas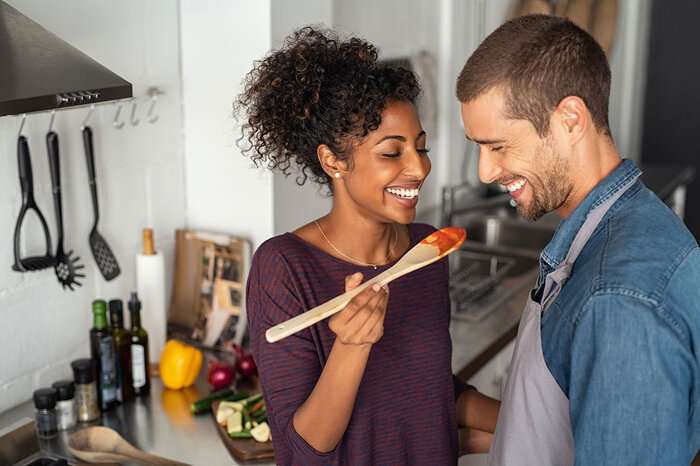 Turn the dining room into the "fine dining" room
If you're looking for at-home date night ideas, this is one of the most romantic. Dress up in your fanciest clothes, break out the good plates and turn your dining room into a 5-star restaurant. Even if you're in a studio apartment, you can light some candles and give your home the ambiance of fine dining. If you're a family with kids, you can even get the whole gang involved. While mom and dad enjoy a nice home-cooked meal (or favorite takeout), the kids can dress up as waiters to serve.
Go stargazing
This is one of those at-home date night ideas that works best if you live out of the city or have access to wide, open space. Grab a blanket or a beach chair and head outdoors at night. You can even bring a picnic dinner to enjoy while you wait for the sun to go down. As the sky darkens, you can enjoy the splendor of the night sky, picking out constellations and marveling at the Milky Way.
Try Conversation Cards
You and your loved ones may spend a lot of time together at home. How can you make that time feel more like a "date"? Try mixing up the everyday catch-up with conversation cards. You can search online or visit your favorite retailer to find decks of cards with thought-provoking conversation starters. Whether you want to reflect on your relationship, explore your childhoods, or discover each other's hidden secrets, conversation cards can keep things fresh. Simply add your favorite snacks and make an evening of getting to know each other better.
Valentine's Day is all about showing other people that you care about them. Although we live in a society where the price tag is often seen as a reflection how much we care, the truth is that it really is the thought that counts.