Did you know that, on average, a woman is diagnosed with breast cancer in the United States every 2 minutes?
At ACE, we aren't satisfied with that number. That's why, since 2006, we have partnered with National Breast Cancer Foundation to support the fight against this disease.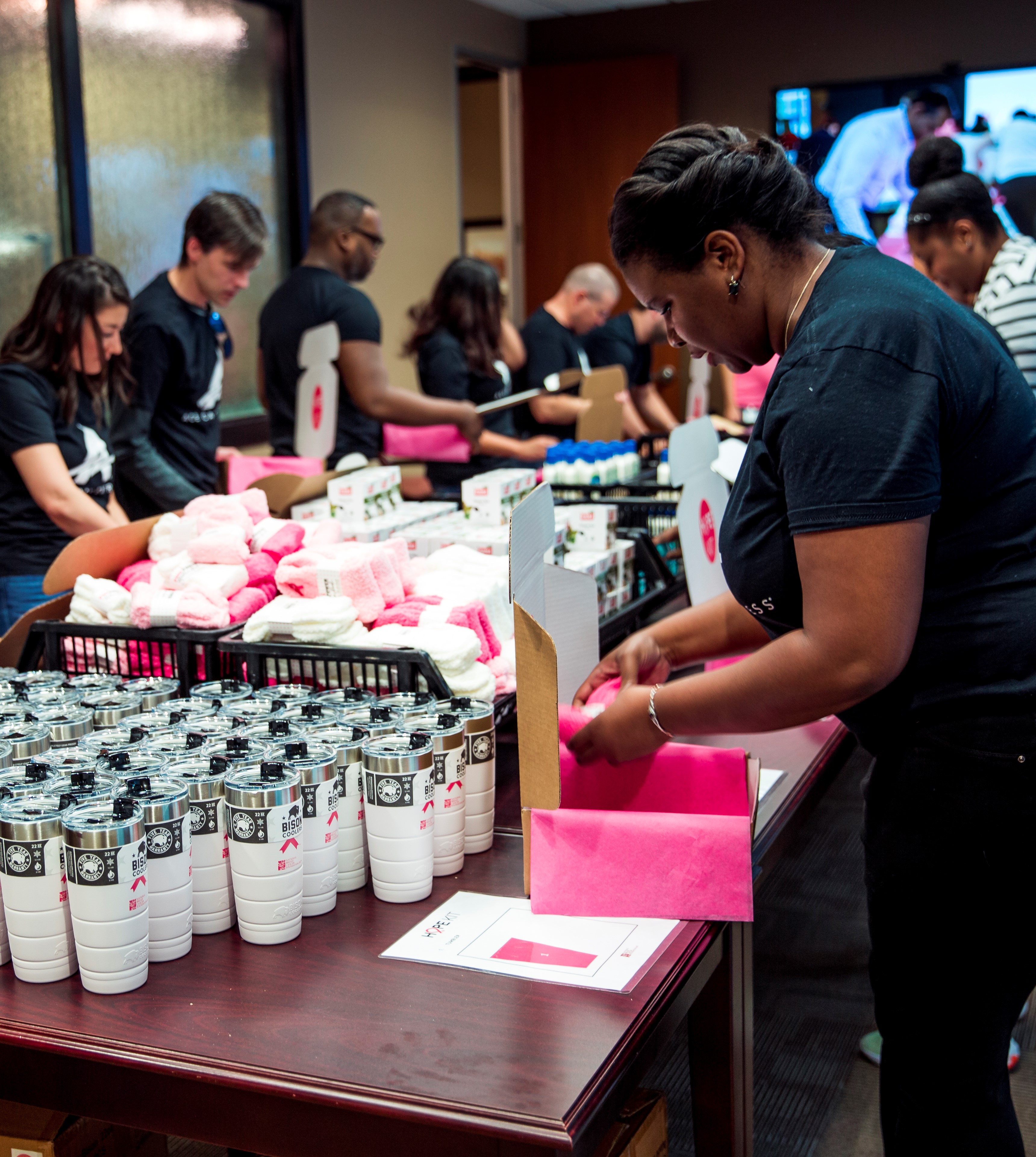 ACE team members prep HOPE Kit boxes at NBCF headquarters
During the month of October, our annual Pink Month fundraising campaign kicked off at ACE Cash Express stores across the country. Employees collected customer donations. With a $2 donation, customers receive pink wristbands they can wear to spread awareness for the cause.
In 2018, the Pink Month fundraiser donated a total of $580,404 to NBCF in partnership with Netspend.
What is National Breast Cancer Foundation (NBCF)?
NBCF was founded in 1991 by breast cancer survivor Janelle Hail. After her diagnosis at age 34, she found she had little information about the disease or her options before she had to make a decision about her treatment. She made a commitment to help future women by educating them about breast cancer and the importance of early detection.
NBCF is headquartered in Plano, TX, with programs around the country including:
Beyond the Shock: An educational resource created for those affected by breast cancer. Learn more about the disease through educational videos, hear survivor stories, and more.
National Mammography Program: NBCF partners with medical facilities around the country to provide free mammograms to underserved women.
Patient Navigator Program: This proactive approach guides patients around barriers of cost, fear and misinformation surrounding breast cancer.
How ACE Cash Express Supports National Breast Cancer Foundation
The Give a Little Campaign
ACE makes giving back a priority with its annual fundraising event, the Give a Little Campaign. During this national fundraising event, stores around the country choose charities that help children, support education and promote financial literacy. ACE is proud to support NBCF with fundraising efforts during this campaign.
Customers who visit an ACE store can choose to donate to the cause during checkout.
Pink Month
October is Breast Cancer Awareness Month, and ACE is proud to celebrate our 13-year partnership with NBCF during this time. This annual fundraising event gives store customers the chance to donate $2 to NBCF during checkout (and receive a pink wristband to support the cause).
The Pink ACE Flare™ Account by MetaBank® Debit Card
ACE partners with Netspend to bring the Pink Flare Card to life. The Flare Account1 is a competitive banking account that gives customers access to powerful features they enjoy. But there's even more reason to love the Pink Flare Card.
With this card, a portion of customer purchases are donated to NBCF's fight against breast cancer. When customers swipe, they support NBCF's life-changing efforts.2
HOPE Kit Packing
In September 2019, the ACE Marketing team visited NBCF headquarters for a HOPE Kit packing party. HOPE Kits are an initiative NBCF refers to as "a tangible expression of hope". The kit is a box of thoughtful items that patients find comforting and encouraging while undergoing treatment. During the event, ACE employees built 150 kits for the cause.
What's in a HOPE Kit?
Fuzzy Socks
Tumbler
Tea
Unscented Lotion
Lip Balm
HOPE Journal
Inspirational Bracelet
Educational Resources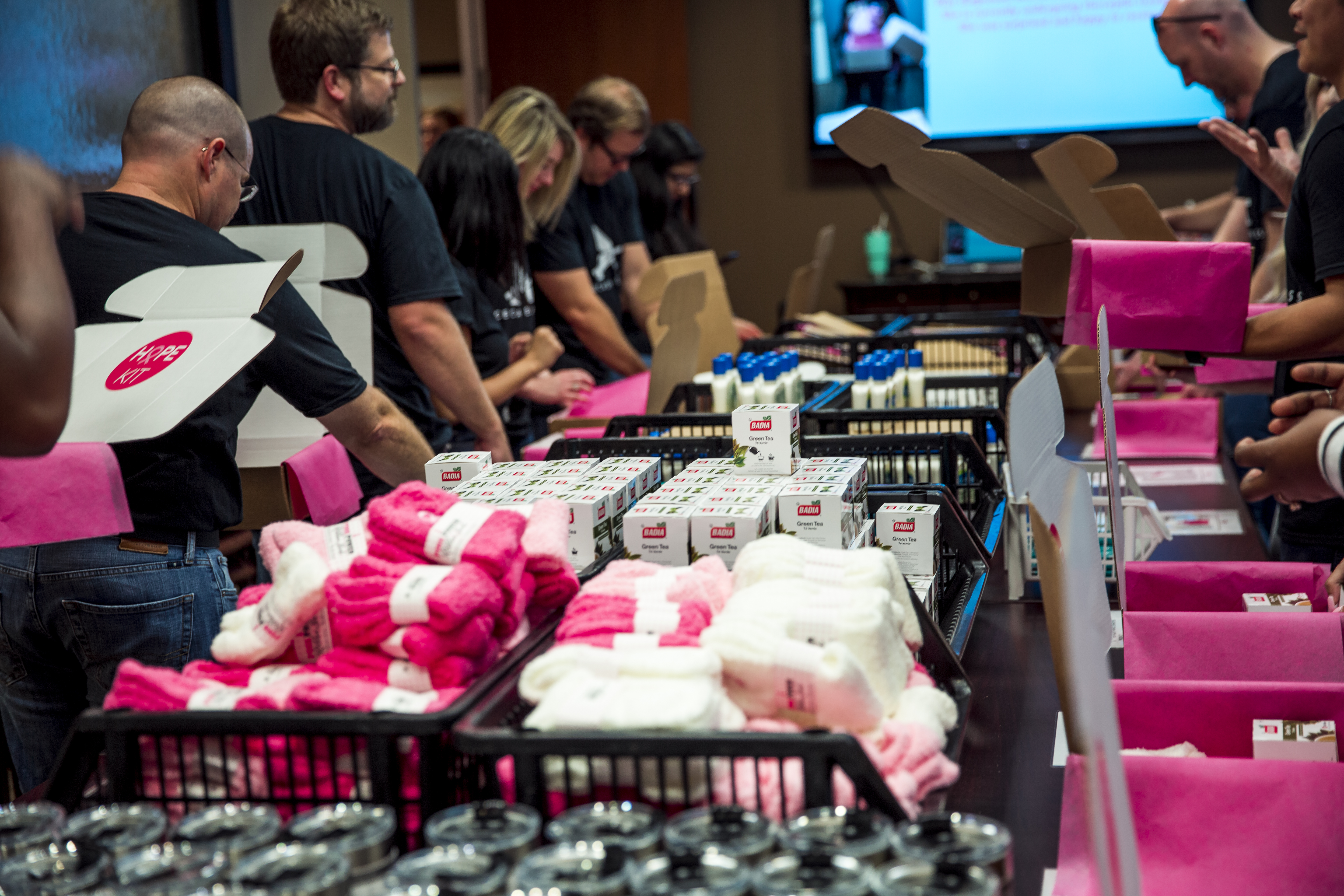 ACE team members pack HOPE kits at NBCF headquarters in September 2019
How You Can Give Back to NBCF
The fight against breast cancer doesn't only happen in October. You can give back all year long!
Make a Donation
Mammograms are critically important to early detection – one of the most important indicators of successful treatment. When you donate to NBCF you help provide a mammogram or other breast health services to women who otherwise couldn't afford it.
Choose the Pink Flare Card
In partnership with Netspend, ACE donates a portion of purchases made with the Pink Flare Card to NBCF. When you apply for a Flare Account1 you'll join others who are fighting back with the power of their swipe.
In addition to NBCF, ACE supports other charities during our annual Give a Little campaign! Other charity partners the Give a Little Campaign supports include Alex's Lemonade Stand, St. Jude Children's Research Hospital, and Boys & Girls Club.