It's a new year!
Here are some money-saving challenges to help you save up in 2022! These challenges offer you some new ways to save. Instead of creating new habits or imposing difficult discipline to follow, doing these challenges may make saving money more fun, which may make it easier for you to stick with it. You might find more success if you do these challenges with your family or friends.
To maximize your savings, try building a budget first. The School of ACE How-to budget for beginners article can help you get started.
1. No-Spend Challenge
The No-Spend Challenge is a popular money-saving challenge. All you'll need to do is aim for a set amount of time without spending extra money outside of your basic needs. Basic needs usually consist of food, rent, gas, etc.
You can do this challenge for as long or as short as you like. Try starting with short periods like a day and build up each month/year.
2. 52-Week Money-Saving Challenge
The 52-week money-saving challenge is where you save $1 for the first week, and each subsequent week increase the amount placed into your savings by one dollar. By the end of the year, you should have saved $1,378.
Here is how it works:
$1 into savings: week 1
$2 into savings: week 2
$3 into savings: week 3
$4 into savings: week 4
Keep doing this until week 52, when you will put $52 into savings for the final week of the year!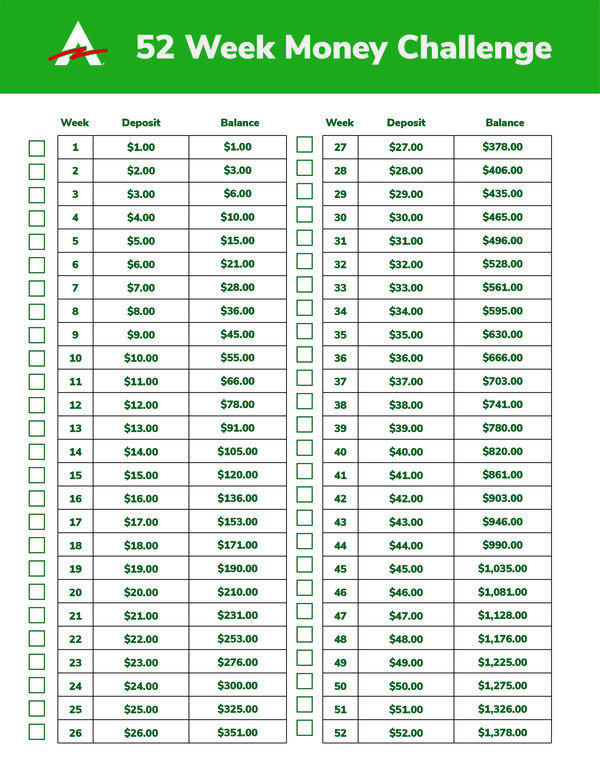 3. 52-Week Money-Saving Challenge Backwards
This challenge is simply the reverse of the 52-week money challenge. Instead of saving $1 the first week, $2 the second week, you will flip the amount and work backwards from $52 a week. At the end of the year, you'll have saved $1,378.
Here is how it will look:
$52 into savings: week 1
$51 into savings: week 2
$50 into savings: week 3
$49 into savings: week 4
This challenge is a great way to save money because you will likely have enough money saved to pay for items such as Christmas gifts by the time the holidays hit!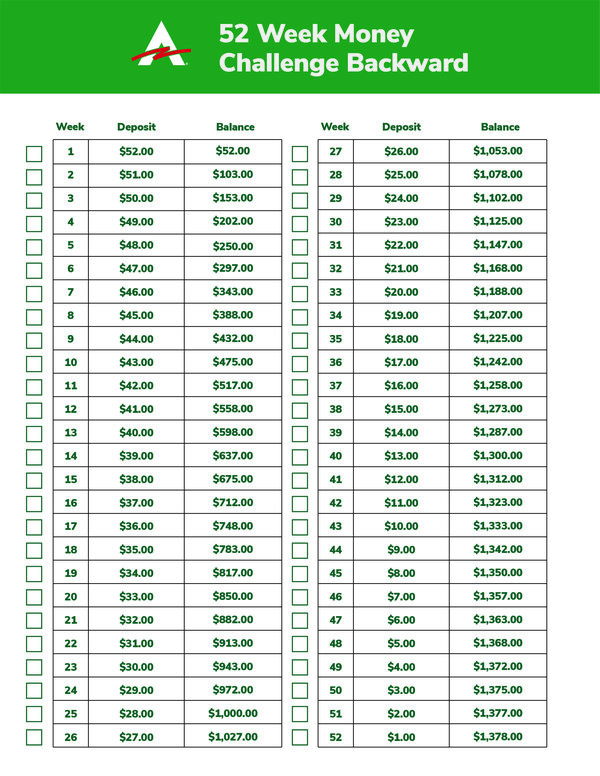 4. Trip Savings Plan
This challenge can be completed in two months, perfect for those looking to save up for a getaway. With this challenge, you could save $1,000 in 8 weeks.
You will need to put a set amount into savings each week ($125 a week if you want to save $1,000). You may need to cut back on spending on certain items during this time frame, such as eating out.
5. Holiday Helper Fund
Are you looking to get ahead for the holidays? If so, the holiday helper challenge is a challenge for you.
This challenge is a way to get ahead of the large expenses associated with the holidays. It's simple, starting January 1, set aside $20 from each week's budget, and put it into savings. By the end of November, you will have saved $960 on a bi-weekly budget.
6. 26-Week Bi-Weekly Savings Plan
Instead of a weekly challenge, this one challenges you to save money every other week.
This plan typically works better for those who prefer to deposit money into savings on the same schedule as your paycheck (if you are paid every 2 weeks). For this challenge, you increase by $4 every two weeks. By the end of this challenge, you should have saved as much as $1,404 – if you stick with it every paycheck.
Here's how it looks:
1st week: put $4 into savings
3rd week: put $8 into savings
5th week: put $12 into savings
7th week: put $16 into savings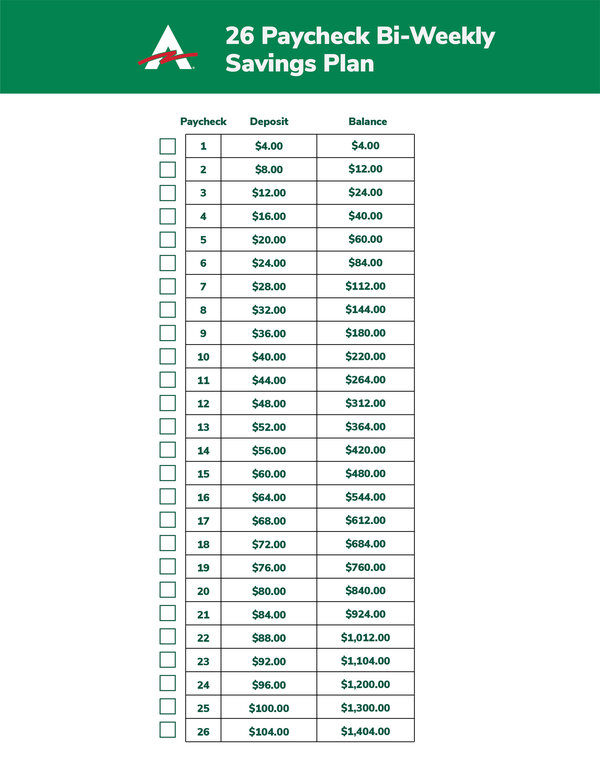 7. 365-Day Nickel-Saving Challenge
If making weekly or bi-weekly deposits is overwhelming, then the 365-Day Nickel-Saving Challenge is for you. For this challenge, you will increase your savings by adding a nickel every day. You can transfer money each day to a savings account and by the end of the year, you will be depositing $18.40. $0.05 may seem small, but by the end of the year, you will have saved approximately $3,300.
1st day, deposit $0.05 into savings
2nd day, deposit $0.10 into savings
3rd day, deposit $0.15 into savings
8. Save the change
The challenge is applicable to cash purchases. Put the change you typically receive after making a cash purchase into a savings envelope or an account. You'll be surprised just how much money you can save for every purchase! If you're the type that prefers to use cash over a debit card, you can transfer the "change" into an account.
9. Weather Savings Challenge
This is an unexpected and enjoyable challenge! You deposit money into savings that matches the highest temperature for that month. You can even try doubling the amount! If you live in a colder climate, you can save 2 to 3 times the average temperature!
10. 31-Days to Improve Your Financial Life
Do you want a more difficult challenge? If so, this Challenge from Part-Time Money is the one for you. Part-Time Money has created this challenge to help you break financial habits that hinder you from saving. They give you a new task or challenge each day and give you the tools and resources to do them. This is the perfect 31-Day Challenge for serious budgeters!
11. 3-Month Savings Money Challenge
This challenge only lasts for three months, so if you don't want to commit to something all year long, this one may work for you. It's simple; put exactly $84 per week into a savings account. Within those three months, you will have saved over $1,000.
Sound tough? Browse our 10 money-saving tips from my millionaire uncle for insights and inspiration.
12. Expense Tracking Challenge
Have you ever tracked your expenses? Challenge yourself to write and categorize every single purchase for an entire month. It's an effective way to see where your money is going and will help you save more visually. You may want to split it up by categories such as groceries, car maintenance, and going out. At the end of each month, determine your needs vs. your wants. From there, try and adjust your budget for the next month.
You might be shocked at how much you spend on certain things!
13. $10 Paycheck Challenge
This challenge is for anyone that budgets every paycheck with a bi-weekly pay period! For this challenge, increase your savings amount by $10 each week. You restart the amount when you get to $60 a paycheck and go back to $10 savings amount on the next paycheck.
Paycheck 1 $10
Paycheck 2 $20
Paycheck 3 $30
Paycheck 4 $40
Paycheck 5 $50
Paycheck 6 $60
Paycheck 7 $10
At the end of 26 paychecks, you will have saved over $800!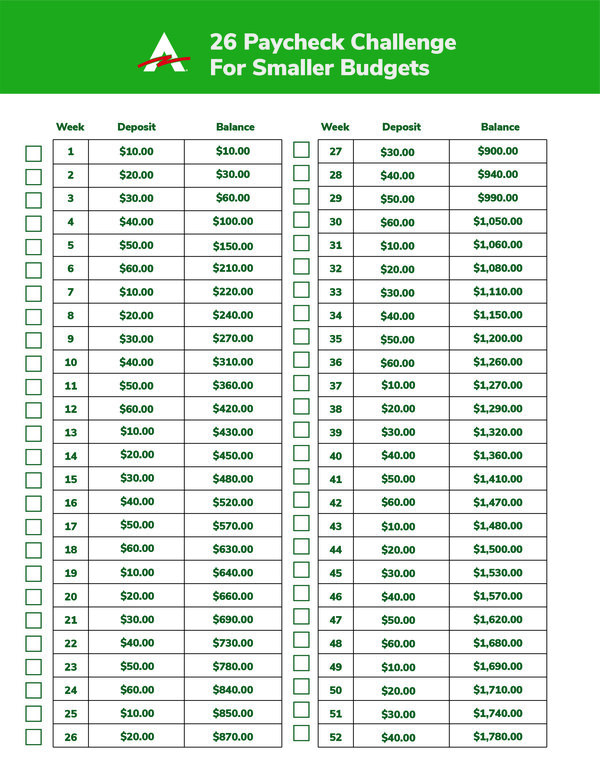 14. No Eating Out Challenge
This challenge is for anyone who needs a quick win! If saving up money seems too intimidating, try to only eat out once or twice for an entire month. This one habit might help you save more money than you realize.
15. Cancellation Challenge
The cancellation challenge is just as simple as the "no eating out" challenge. Sit down and look at all your subscriptions. Try and determine which subscriptions are essentials and those that are wants. Try and cancel as many "wants" as possible and put the money you would spend on them monthly directly into savings.
16. Little Purchase Savings Challenge
The little purchase challenge will take a little more effort and time. You'll have to think about every single purchase and decide whether it is a necessary one. This challenge aims to help limit the amount spent on impulse buying, such as candy or a small coffee, while running errands. There are a few ways to go about this challenge. You can either cut out all small purchases for an entire month or cut out certain purchases for a greater period of time.
17. 1% Challenge
You'll need to calculate 1% of your gross pay for this challenge then divide that by your total number of paychecks for the year. Put the amount you calculated into a savings account after every paycheck. Challenge yourself even more each month by increasing your savings by 1%.
18. Money Throwdown
Challenge a friend or family member and see who can save the most money in a month. You'll need to work out the rules, but it could be a fun way to save.