It's the most wonderful time of the year! Your holiday wish lists are running long, and you need help finding the best gifts for the ones you love. Get a leg up on your 2019 holiday shopping with this list of the 50 best holiday gifts under $50. Enjoy!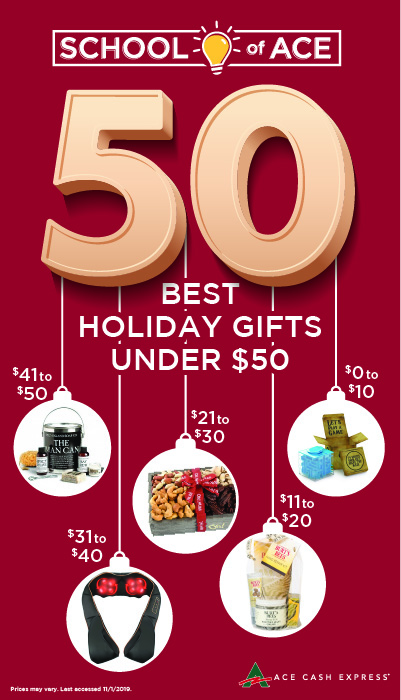 Prices may vary. Last accessed 12/6/2019.
Gifts from $41 to $50
1. Grillart 19-Piece Grill Utensil Set ($45.99)
Every home grill master's holiday experience will be made better with a brand-new utensil set for the grill. The Grillart 19-Piece Grill Utensil Set is a great deal for the money and comes in a portable and convenient case.
2. FoodSaver Vacuum Sealer Machine ($49.99)
Make meal prep a breeze with this food vacuum sealer. Designed to prevent freezer burn and allow you to keep a variety of foods fresh longer, this is a great gift option for families.
3. The Man Can Gift Basket ($42.99)
Men care about grooming, too! That's what The Man Can Gift Basket is all about. It's a personal grooming kit contained in a paint can. This basket is the perfect gift for the millennial man who believes personal grooming is an art form.
4. Amazon Collection Sterling Silver Heart Pendant Necklace ($41.50)
Are you feeling romantic? Why not choose a sterling silver oxidized marcasite and gemstone pendant necklace in the shape of an elegant heart? This necklace features a Swiss blue topaz glass heart encased in sterling silver.
5. Rivet Textured Throw Blanket ($42.29)
Give the gift of comfort this holiday season with a cozy throw blanket. This one by Rivet features a fun textured design that makes a cute statement piece.
6. Live by Being Bath Salt Spa Gift Set ($45.90)
Help turn bath time into a relaxing spa experience with this set of three bath salts. This set is perfect for unwinding, with salt baths for skin hydration, relaxation, and restful sleep.
7. Wyze Labs Wireless Smart Home Camera ($47.43)
This set of wireless home cameras will give your holiday gift recipient peace of mind when away from home! Enjoy live-streamed videos to a smartphone and night vision up to 30 feet away.
8. Wahl Clipper Grooming Kit ($41.83)
A well-groomed beard is a happy beard! This clipper kit includes everything he needs to stay looking sharp, including shears, combs, and multiple attachment guards.
9. Roald Dahl Book Collection ($44.99)
If your kids are prolific readers, consider the Roald Dahl Collection of 15 Fantastic Stories. This is a box collection of paperbacks featuring well-known stories like Charlie and the Chocolate Factory and Boy.
10. Under Armour Hustle 4.0 Backpack ($24.98 - $54.00 ranging by color)
For the sporty person on your list, you'll love the Under Armour Hustle 4.0 Backpack. Highly water-resistant and tough, this is a great choice for exploring the outdoors, hitting the gym, or just looking stylish on the go.
Gifts from $31 to $40
11. Basic Stitches NYC Taco Belle Sweatshirt ($31.99)
We've found the perfect fit for the girl who loves tacos! The Taco Belle Sweatshirt is available in five colors and is perfect for lounging or wearing out on a casual day.
12. Timex Men's Easy Reader Leather Strap Watch ($32.50)
Give the gift of classic style! This Timex watch features larger numbers that are easy to read. Leather straps give a timeless look that lasts.
13. TRIDUCNA Shiatsu Back Neck and Shoulder Massager ($39.98)
Adults of all ages will love the Shiatsu Back Neck and Shoulder Massager. Just put it on your aching neck or back, flip the switch, and enjoy the deep, penetrating heat. Your recipient will feel relaxed in no time.
14. SHANY Cosmetics Makeup Palette Gift Set ($35.94)
She'll fall in love with this incredible multi-palette makeup gift set! With shimmer eyeshades, matte face powders and blush shades for every skin tone, this is a great gift for aspiring makeup artists.
15. Staration Personalized Band Ring – Birthdate ($38.99)
A personalized band ring from Staration is a customized gift for that special lady. Have her baby's name engraved along with the birthdate and a special phrase. The band features genuine sterling silver along with the birthstone.
16. The Art of Shaving After Shave Balm ($40)
Both men and women appreciate The Art of Shaving After Shave Balm. This balm soothes the skin and moisturizes simultaneously. It is the perfect treatment for shaving the face or legs.
17. CHULUX Single Cup Coffee Maker ($39.99)
The CHULUX Single Cup Coffee Maker is perfect for people who love single-serve coffee machines and travel a lot. What makes this coffee machine so special is that it is completely portable. Take it with you wherever you go for fresh coffee anytime.
18. WeMo Wi-Fi Light Switch ($34.99)
High-tech smart home technology is close at hand with this Wi-Fi Light Switch! This light switch makes in-wall installation simple and pairs with Amazon Alexa, Google Assistant and Apple HomeKit.
19. Play22 Keyboard Playmat ($36.99)
Give your child the gift of music and creative play with the Keyboard Playmat from Play22. This ingenious product encourages your child to play music just by stepping on a mat presented as a keyboard.
20. AKAMATE Kids Action Camera ($36.99)
You might not want the kids touching your expensive digital camera. They don't have to when you give them the AKAMATE Kids Action Camera. This is a waterproof camera capable of 1080P HD videos and pictures. It's a great gift for aspiring online Influencers and for capturing fun holiday footage.
Gifts from $21 to $30
21. Hamilton Beach 25475A Breakfast Sandwich Maker ($24.99)
This Hamilton Beach 25475A Breakfast Sandwich Maker lets you prepare everything for breakfast in one unit: eggs, muffin, and meat. A great sandwich is just a few minutes away.
22. Rostmary Gift Shop Wooden Docking Station ($29.95)
This masculine wooden docking station from Rostmary Gift Shop is a classic, versatile storage space for a desktop or nightstand. It gives any man a place to store everything from his cell phone to his credit cards and wallet.
23. SADES SA926T Stereo Gaming Headset ($23.99)
Do you have gamers in the house? Gift them with the ultimate gaming headset featuring a noise-canceling mic and soft ear cushions. The headset is compatible with Xbox One, PC, and PS4.
24. Exploding Kittens ($29.99)
Geek out at the holiday party with a party game that's a blast to play! Perfect for a white elephant party, this game is family-friendly for up to 10 players.
25. Honest Outfitters Double Camping Hammock ($29.99)
Sometimes you want nothing more than to relax the day away in a hammock. The Honest Outfitters Double Camping Hammock makes it possible. It is super lightweight and portable.
26. Elecstars Touch Bedside Lamp ($29.99)
The Elecstars Touch Bedside Lamp can act as both a lamp and a nightlight. It features smart touch control for easy activation and deactivation. It comes in a variety of colors and includes music playback, Bluetooth, and built-in speakers.
27. Creativity for Kids Tropical Terrarium Kit ($24.50)
Kids curious about botany might find the Tropical Terrarium Kit from Creativity for Kids an amazing gift. This gift is essentially a small garden you can hold in your hands. It comes with easy-to-grow plant seeds to get your kids started.
28. LED Lytes Colored Flameless LED Candles ($21.97)
The only thing better than a real, flickering candle is a cordless LED candle that gives your recipient the same experience without the risk of fire. You can buy these flameless candles from LED Lytes in a variety of colors.
29. Crayola 140 Count Art Set ($22.58)
In the electronic era, sometimes you want to get your kids away from the screen. The Crayola 140 Count Art Set is the perfect gift for doing so. This art set is what all of us adults wish we had when we were in school.
30. Holy Stone HS190 Foldable Mini Drone ($29.99)
Drones are all the rage these days, but they can be expensive. Now you can buy your child an affordable drone that introduces him or her to this wonderful hobby without breaking the bank. It comes complete with a remote control that's perfect for smaller hands.
Gifts from $11 to $20
31. YETI Rambler Stainless Steel Tumbler ($19.99)
The YETI stainless steel insulated tumbler holds 10 ounces of liquid and maintains its temperature with vacuum insulation. Whether hot or cold, any drink will stay just the right temperature for hours.
32. Burt's Bees Hand Repair Gift Set ($11.64)
For her, consider the 3-piece Burt's Bees Hand Repair Gift Set. She will get an almond milk hand cream, lemon butter cuticle cream, and shea butter hand cream, all in a lovely package ideal for holiday gift-giving.
33. HYSGM 2-Piece PU Leather Handbag Wallet Set ($18.99)
Give her the luxe look of leather with a more affordable price tag! This faux leather handbag and wallet set looks amazing. It comes in a variety of colors and is appropriate for casual needs.
34. Basic Fun Lite-Brite Toy ($13.99)
Encourage creativity and inspire joy in your children with this classic Lite-Brite toy! Kids can just plug and play on the screen to create beautiful glowing art creations.
35. Jelly Comb Electronics Organizer Travel Case ($17.99)
Just about anyone on your gift list could use an organizer for personal electronics and their power cords. This storage case is ideal for travel with smaller pockets for cords and larger, deeper pockets for electronic devices themselves.
36. HanZa' Bath Bombs Gift Set ($17.99)
Give the gift of relaxation with a bath bomb gift set. This set of eight bath bombs includes everything from bath beads to spa fizzies. Bath time will never be the same thanks to these high-quality, handmade bombs that come in a beautiful gift box.
37. Funny Avogato Tee Shirt ($19.97)
Do you have a loved one who loves puns? This Avogato Cat Tee Shirt could be a great gift. With a cute avocado cat image, it's a fun and festive option for a special someone on your holiday list.
38. National Geographic Break Open 4 Geodes Science Kit ($19.99)
The science-minded teen in your house will love the Break Open 4 Geodes Science Kit from National Geographic. The kit includes four crystals your kids can easily break open to explore inside. The kit contains a safety glasses and a magnifying glass.
39. National Geographic Mega Fossil Dig Kit ($19.99)
Your science-minded teen will also love this science kit that focuses on fossils. The National Geographic kit features a variety of simulated fossils along with small hand tools to simulate how archaeologists dig up fossils in the field.
40. Trivial Pursuit Family Edition ($16.20)
Trivial Pursuit is one of the most recognized board games in the world. The Trivial Pursuit Family Edition includes kid cards and adult cards allowing your whole family to enjoy the fun.
Gifts from $0 to $10
41. Lagunamoon Essential Oils 6-Piece Gift Set ($8.09)
Fans of essential oils will appreciate this 6-piece gift set from Lagunamoon. The set includes Lagunamoon's top-selling essential oils – peppermint, orange, lavender, eucalyptus, lemongrass, and tea tree. Each bottle contains 10 ml of essential oil perfect for aromatherapy.
42. 50 Hilarious Knock-Knock Jokes for Kids! By Emilia Marshall ($5.99)
Don't let the art of the knock-knock joke die. Instead, keep it alive by gifting your kids with this paperback from kid author Emelia Marshall. They'll have fun telling jokes that are all age-appropriate for the little ones.
43. Loomiloo Sloth Cosmetic Bag ($6.99)
Whimsical and practical, this cosmetic bag for women is a great storage place for makeup, toiletries, and other essentials. A playful sloth design adds a bit of extra personality.
44. INFMETRY Capsule Letters Message in a Bottle Glass Favor Bottle ($9.99)
This gift is a bit unusual. It is a small glass bottle filled with capsules. Inside each capsule is a small piece of paper on which you can write any message. This is a great gift for those who like leaving loved ones little messages around the house.
45. Primitives by Kathy Always Be Yourself Sign ($6.96)
Give someone on your list a fun little reminder to "Always be yourself. Unless you can be a unicorn. Then always be a unicorn." This quote sign will find a perfect home on a desk, nightstand, or shelf.
46. XJZX10-Piece Manicure Pedicure Set ($6.29)
This 10-piece manicure and pedicure set is ideal for both home and travel use. The set includes nail clippers, scissors, tweezers, a file, and more. Everything is contained in a handy, foldable case that slips easily into a purse or messenger bag.
47. aGreatLife Money Maze Puzzle ($9.90)
This great gift is both a bank and a puzzle. Insert your coins and maneuver the puzzle to work them to the bottom. It is not as easy as it looks. Give this gift to anyone you know who wants to have a little fun with their pennies.
48. Maleden Leather Writing Journal Notebook ($9.99)
A faux leather writing journal is an ideal gift for both boys and girls. It is especially appropriate for teens. This particular journal is made by Maleden and comes in five different colors. It features a beautifully embossed compass design on the front cover.
49. Hot Wheels 9-Car Gift Pack (on sale for $7.59)
Yes, hot wheels are still around. This 9-piece gift pack is ideal for the little car guy in your family. Get sporty with flashy little cars the kids will love. Because these are hot wheels, you know they are built to last.
50. Made By Me Create Your Own Window Art ($9.97)
Young artists in your family will love the Create Your Own Window Art from Made By Me. The kit includes a variety of tools and supplies that allow your child to make art right on the windows of your home. No worries – windows wipe clean with little effort.
Prices may vary. Last accessed 12/6/2019.