It's the most popular shopping season of all! If your wish list is long and you don't want your wallet to be short, finding the best deal available is key.
You might think that waiting out in the cold at midnight and standing in long lines is the only way to get a great deal. But research shows that most holiday shopping takes place online – about 80% according to Digital Commerce 360 research.1
We're here to walk you through a few tips to make the most of online holiday shopping.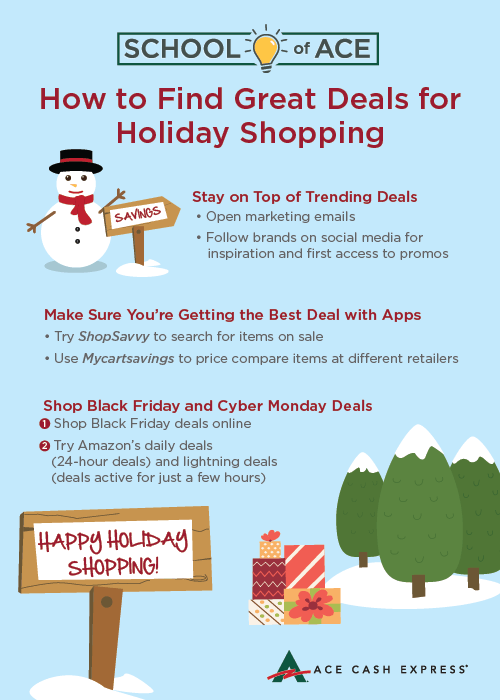 Shop Black Friday and Cyber Monday Deals
Research shows that the Thanksgiving to Cyber Monday shopping season is the busiest time of the year for online shopping, with $58.2 Billion spent in 2018.2
With once-a-year deals on electronics and home goods, it's no wonder millions of people head to stores to shop during this busy season. Luckily, you can take advantage of Black Friday savings online, as well.
Where are the best places to shop for Black Friday and Cyber Monday deals? That depends! In 2018, mega-retailer Amazon received 41% of total U.S. online sales according to research.3 Their daily deals (24-hour deals) and lightning deals (deals active for just a few hours) are hard to beat. To take advantage, check the Amazon.com homepage throughout the day on Black Friday and Cyber Monday.
Briana, a Digital Marketing Manager who appeared on the TV show "Extreme Couponing," suggests:
"Remember that some of the "doorbuster" deals are limited to a few items in the store (meaning there may only be 5 TVs at that screaming deal), so you want to keep that in mind when waiting in line."
Stay on Top of Trending Deals
Email
Remember all those times you bought something and provided your email address before finishing your transaction? While they may pile up in your inbox, marketing emails are a great way to stay on top of the latest deals from brands you love. 68% of shoppers say they pay more attention to companies' emails during the holiday shopping season.4
Open marketing emails during the holiday season to stay in-the-know on lower prices and sales.
Social Media
Follow brands you love on social media. You may find inspiration for a gift for that "hard to shop for" person on your list and get first access to promo codes and other sales.
Make Sure You're Getting the Best Deal
How can you be sure you're getting the best deal? If a few retailers offer savings on the same item, it can be time-consuming to click around and find the best deal available. Using the right apps can help make this process easier.
Try these popular apps to track savings across retailers:
ShopSavvy: Scan the barcode of an item you want, and the ShopSavvy app will compare prices online and in your area. You can also scan QR codes and type in keywords to search for the best offer on certain items.
Mycartsavings: Love shopping with Amazon, Walmart, eBay, and Best Buy? The Mycartsavings app makes it easy to price compare and even track deals on items. Tag the holiday gift you're considering, and Mycartsavings will alert you when a price drop occurs at a certain retailer.
Stay Within Your Shopping Budget
Holiday shopping is all about making the special people in your life happy. Make your wallet happy, too, with some tips from Briana:
"Set a budget for each person and an overall budget. Then stick to it!"
Remember that if you want to make the most out of the season, go into it with a plan. Play Santa Claus by having your list and checking it twice. This will help prevent impulse buys on items you didn't intend to purchase.
If your budget allows, consider Briana's recommended "four present rule" when shopping for the family:
"Don't go overboard on gifts for your kids. Try the four present rule …. something they want, something they need, something to wear, and something to read."
Learn more about managing your spending in our post 5 Habits of Financially Fit People!
The holiday shopping season doesn't have to give you a headache. By creating a plan, keeping an eye out for the best deals, and price comparing your desired items, you can make it easier and more fun.