Are you one of 71% of AmericansA who regularly use online banking? If not, you could be missing out on the added convenience and security that online banks provide.
So, what makes a bank an "online bank"? Most traditional banks give you the option to access your account details online: you can check your balance, make transfers, and update your account info online. However, you can also visit a branch to make transactions. An online bank, on the other hand, only offers digital account management. There are no branches you can visit.
"That's great," you say, "but what if I need to talk to a real person? What if I need to use an ATM?"
Online banks won't leave you hanging.
How to Bank Online
Today, online banks are growing in popularity. They offer many of the same benefits and security protections of traditional banks, with the convenience of being available to you anytime, anywhere. If you have Internet access, you can manage your account.
And if you need access to other banking services, here's how an online bank can help:
Customer Service: You can often contact your online bank's customer service department through a phone number or email address you can find on the company website or in the bank's mobile app.
ATM Withdrawals: Because online banks don't usually have dedicated ATM locations, they may offer lower fees at some partner ATMs. You may also be able to take advantage of other cash withdrawal services.
Should You Switch Banks if You Already Have an Account?
According to GO Banking Rates, 50% of Americans use more than one bank.B The reasons for this vary, including:
Flexibility/convenience (31%)
Different services/products offered (24%)
Lower fees (20%)
Want finances separated/spread out (19%)
High account balances (6%)
Having just one bank account may be the best way to serve your needs. However, if you have a variety of financial goals and you want to best serve them all, you may find that using more than one bank is a good option.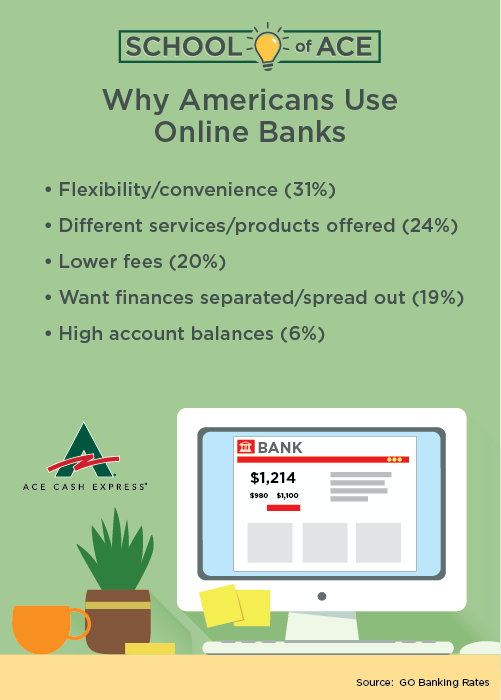 Should You Open an Online Bank Account if You Don't Have a Bank?
About 70 million Americans don't have access to traditional banking services.C There are many reasons why you may not currently have a bank account but opening one can be beneficial for your financial life.
With an online bank account you can:
Enroll in direct deposit. Ditch paper checks and have your money deposited directly into your new account. No need to pick up and sign for your check, no more waiting in line to have it cashed, and no more check cashing fees.
Open a savings account. While most people believe that having money saved for a rainy day is important, they may find it challenging to put money away. When you have a checking account or primary account, you can open a savings account. Enroll in direct deposit to automatically deposit funds into your savings account and watch it grow.
Pay bills online. A 2017 study by ACI Worldwide and Aite Group found that about 56% of all bills are paid online.D You may choose to pay bills online through the biller, through your online bank or with a third-party website such as MoneyGram.
Secure your money. Trusted online banks, like traditional banks, may be FDIC insured under some circumstances. That means that your funds up to $250,000 are covered by the FDIC in case the bank fails. Always look for the "Member FDIC" note on your bank's copyright.E