The Best Uses for Mobile Banking
The development of mobile banking has given us the ability to review our accounts, move funds around, send payments, and more, all at the touch of our fingertips. According to a national survey by the American Bankers Association, bank customers now use mobile apps more than any other way to manage their accounts.[1]
But what exactly can you use mobile banking for? Here's a comprehensive guide to the best uses for mobile banking and how it can help you manage your money.
What Are the Best Ways to Use Mobile Banking?
Send Money Electronically
Mobile pay is a popular feature of mobile banking, giving you the ability to send money and pay bills electronically. Popular money-sending apps include Paypal, Venmo, CashApp, and Zelle, an option that may be offered within many existing mobile banking apps. Mobile payments don't require you to have your physical card on you, which makes them much more convenient. However, you will usually be required to do a face scan or enter a password on your phone in order to authorize the transaction.[2] Be sure to send money only to people you know and trust.
Transfer Money Between Accounts
Mobile banking allows you to quickly and easily transfer money in between bank accounts even if they aren't all from the same bank. If you're the owner of both the accounts, you may be able to link the accounts online on the bank's website. While external transfer fees used to be more widespread, some banks have begun offering the service for free in recent years.[3]
View Your Account Balance and History
Being aware of your transactions and the amount of money in your account is vital to avoiding overdrafts and becoming aware of possible fraud. Your mobile banking app allows you to see your account balance on your smartphone no matter where you are. If you're keeping a balanced checkbook, then you can use mobile banking app to compare your online bank statements with your own records.[4]
Deposit Checks
One excellent use for mobile banking is the ability to deposit checks without having to go to the bank. Mobile check deposit allows you to scan a picture of the front and back of your check using your smartphone and deposit it into your account. You can do this from anywhere at any time. Be sure to hold onto the paper check until the funds have been deposited in case it bounces or there are any other issues.[5]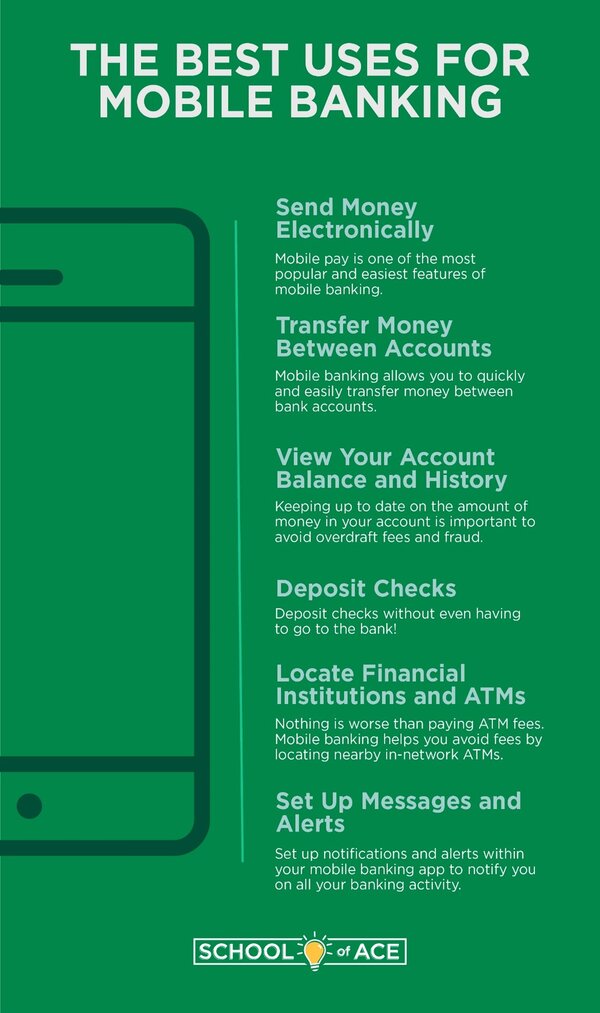 Locate Financial Institutions and ATMs
Nothing is worse than needing cash from your account and getting stuck with out-of-network ATM fees. Mobile banking may help you avoid these charges by locating nearby ATMs that are within your bank's network. Your mobile banking app may show you nearby ATMs affiliated with your bank.
Set Up Messages and Alerts
Checking your account regularly is an essential perk of mobile banking that helps you avoid fraud and unwanted fees. However, you can go one step further by setting up alerts within your mobile banking app to notify you of any issues. Low balance alerts will tell you when your bank account balance dips underneath a certain amount, while a direct deposit alert will tell you when your money is available for you to use.[6]
You can also set up alerts for unusual account activities, large ATM withdrawals, or large purchases to help keep you apprised of any suspicious transactions that may be fraudulent. A profile change alert can also be helpful by letting you know if someone is trying to make changes to your account such as your username or password.[7]
Mobile banking features vary by financial institution and change frequently whenever technology is updated. Check out your bank's mobile banking app as well as other popular mobile banking options to see which one is right for you.
[1] https://www.aba.com/about-us/press-room/press-releases/survey-bank-customers-now-use-mobile-apps-more-than-any-other-channel-to-manage-their-accounts
[2] https://www.thesimpledollar.com/banking/best-apps-to-send-money/
[3] https://www.thebalance.com/best-ways-to-transfer-money-between-bank-accounts-315466
[4] https://www.thebalance.com/check-your-bank-balance-online-315469
[5] https://www.bankrate.com/banking/facts-everyone-should-know-about-mobile-check-deposit/
[6] https://www.bankrate.com/banking/checking/mobile-banking-account-alerts/
[7] https://www.bankrate.com/banking/checking/mobile-banking-account-alerts/