Want to earn a little extra money in your bank account? Your account's Annual Percentage Yield (APY) may be able to help.
What is Annual Percentage Yield (APY)?
"Annual Percentage Yield" or "APY" is the total amount of interest paid on an account in a year, based on the interest rate and the frequency of compounding interest, and is expressed as a percentage. Therefore, APY is the real rate of return on your account when taking into account the effect of compounding interest.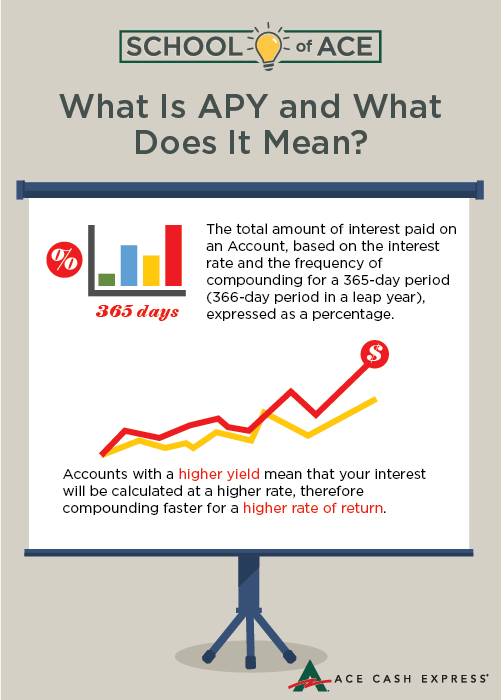 What is Compounding Interest?
Compound interest is interest that's calculated on the principal of your savings account (the actual dollars in the account), including all the interest you earned in previous periods.1 Let's say, for instance, you have $1,000 in your savings account, and your banking institution calculates interest quarterly with a 1.00% APY. In the first quarter, you earn $10 in interest on your $1,000 principal, bringing your total balance with interest to $1,010.
In the following quarter, your institution will calculate your interest based on the new total of $1,010, not just the original principal of $1,000.
That's compounding interest in action. That's different from simple interest, in which you would continue to earn interest on just the initial principal amount deposited in the account.
What is High-Yield APY?
Have you heard of high yield savings accounts? These accounts offer APYs of 1% to 1.35% or more, according to Credit Karma.2 Accounts with a higher yield mean that your money will grow faster. By putting money away in a high-yield savings account, you can amplify your savings over time. Continue adding money to your savings account to grow those funds even more. You can research different high-yield savings account options to find out how to get most from your savings efforts.
Don't have a bank account? You can still take advantage of a competitive high-yield savings APY offered by the ACE Flare™ Account by MetaBank®3. The Flare Account was designed to be a full-service online bank account that offers many of the benefits of a traditional bank account.
When you open a Flare Account and enroll in direct deposit of $500 or more, you'll get access to:
Optional Savings Account with up to 6.00% APY4
Get paid up to 2 days faster with Direct Deposit5
No-fee6 cash withdrawals up to $400 per day at participating ACE locations
Optional Debit Card Overdraft Service7