Furnishing a new home or need to replace some everyday items in your home? You may be shopping around for new home décor.
The challenge comes in knowing how much to spend on different home goods. How do you know when to save your dollars and when to save up for quality pieces?
In the "Save" or "Save Up" series we break down when you should look for a steal on everyday purchases and when you should consider saving up for an item that you'll have a long time. Here are some recommendations on how you can shop for your home to get the most for your money.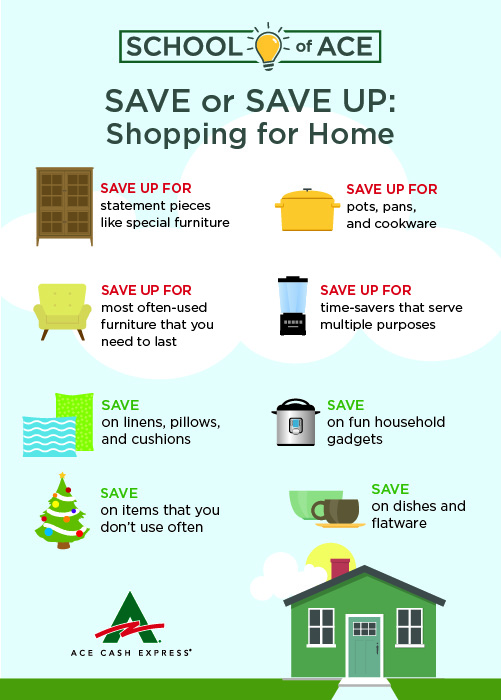 Save on Linens, Pillows, and Cushions
Unlike furniture, soft goods tend to wear out quickly. You may also decide to switch up your décor over the next several years. For this type of item, it's best to find cheaper, budget-friendly options that still look great. Look outside of traditional home décor stores to find pieces that fit your personality and make a statement. You may consider shopping discount retailers like Big Lots or find lower-cost options on Amazon.com. If you have your eye on a particular brand, consider using an app like Mycartsavings to track the price at different retailers. This can help you ensure you're getting the best price.
Save up for Most-Often-Used Furniture
Your mattress, living room sofa, and kitchen table see a lot of use – and you need them to last. For these most-used items of furniture, it may be worth it to save up for a quality piece. That doesn't have to mean getting the most expensive mattress on the showroom floor. You can invest in quality pieces that will last without breaking the bank. Do your research and find the best option for you.
Save on Limited-Use Items
Patio furniture and bookshelves are great to have, but they may not be worth the splurge. Save on seasonal items and pieces that don't take front and center. These can also include home goods for kids since they tend not to last as long. You can shop secondhand for items like high-chairs, craft tables, and changing tables.
Save up for Statement Pieces
A retro armchair in a stunning color? A multi-level cabinet for your living room TV, DVDs and family photos? They might be worth saving for. If you think that a one-of-a-kind piece that you'll use for years will make your space feel special, save up for it by setting aside some extra money when you have it.
Save on Dishes and Flatware
Your favorite plates, bowls, and flatwear will be put to good use each day, and may see a lot of wear and tear over time. Save your cash on these high-use goods that can break and opt for lower-cost dishes and flatware. That way, if one breaks, you won't feel so bad.
Save up for Pots, Pans, and Cookware
You can rely on that cast iron skillet for all types of dishes, and you may use your pressure cooker on almost every busy night. Your cookware goes through a lot of wear and tear, so it may be worth buying something that is built to last. Consider saving up and investing in higher-quality pots and pans that will cook yummy dishes for years to come.
Save on Household Gadgets
Not every new piece of technology is worth the investment. A water bottle that also blends smoothies on the go may sound great, but how often do you make smoothies? Gadgets should add value to your everyday life, not just be used once and then forgotten.
Save up for Time Savers
If you live in a home with pets, then you understand the challenge of sweeping and vacuuming pet hair regularly. Could a multipurpose vacuum help you out? Knowing how to save up for expensive purchases is one trait among 5 Habits of Financially Fit People.
Consider saving up for items that can save you time and money in the long run.
What do you choose to save up for in your home? Where do you save? Let us know by joining us on Facebook!