Women in Power: Amy, Deputy General Counsel
This March, we're honoring Women's History Month by celebrating female firsts and spotlighting our female leaders.
In this post, we're sharing Amy's story! Amy, who serves as Deputy General Counsel in our legal department, has been with ACE Cash Express (now named Populus Financial Group, Inc.) for five years. She shared the importance of increasing female leadership in the legal field, her advice for women aspiring for greatness in the workplace, and the story of her experience leading a major acquisition transaction solo for the first time.
Q: Can you talk about your journey and how you got to this level of leadership?
Right out of law school, I started at a New York based, international law firm practicing corporate law, primarily private and public company mergers and acquisitions. I worked there for 8 years and learned a lot of valuable skills, including attention to detail, time management, managing a team, and, most of all, working efficiently. A former colleague recruited me to come to [ACE]. Although I did not have much industry knowledge, I had a lot of experience in identifying complex issues and working with a team to solve the issues, all under extreme time demands. Those skills are transferrable to any industry and have helped me succeed in my post-law firm journey.
Q: Looking back at your journey so far, what story or a moment has impacted you that you could share?
No one specific moment, but many moments that together helped me develop my work style and work ethic. Being a first-year in "Big Law" is a little bit like running the gauntlet. You know enough to know that you know nothing, but you also figure out how to learn quickly. You have demanding clients, both internal and external, and you do not want to let anyone down. At the end of the first year, I looked back and realized how much I had learned and realized that I had developed skills that would help me succeed.
Q: To you, what does it mean to be a leader?
To me, being a leader means getting down in the trenches and leading by example. I think that doing that can inspire teammates to work hard and pursue excellence. I also think that communication is critical to leadership. Talking to people and making sure they understand the "why" of something is important for future success. It is also important to listen and adjust accordingly. Communication only works if it is a two-way street.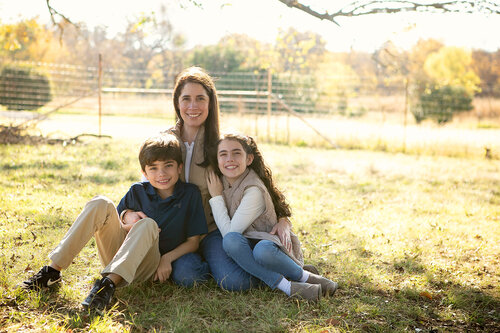 Photo courtesy of Amy R.
Q: What does being a female leader mean to you? I'm also curious about your perspective on female leadership in your field of law, if you have anything to share.
I think it is important to have females at all the important tables in business and in society. Women are just as smart and talented as men, but the female perspective is different than that of the male and is a valuable perspective. I also think having women in leadership roles helps the next generation of women assume that women being in leadership, whether in business or in society, is typical and expected and not some sort of trailblazing idea. I am proud that our company has strong representation of women in leadership positions. Of our senior leadership team, more than 50% are women.  
Female leadership in law has a little catching up to do. I started my legal career at a law firm that had strong female leaders whom I wanted to be like. They worked hard, achieved success and did so while having a family. There are always sacrifices, but they showed me it was possible to have both a career and a family. However, although women make up a slight majority of law students and about 47% of law firm associates, they comprise only about 20% of law firm equity partners and about 30% of Fortune 1000 General Counsels. There have been a lot of studies and a lot of initiatives to promote the advancement of women in the field, but the reality is that there is still a lot work to be done.
Q: What advice would you give a young woman with aspirations to get where you are?
Dream big and work hard. Everything is possible.
Q: Who is a woman in your life who has influenced you?
It's pretty clichéd, but my mom has been a big influence on me. She taught me a lot about perseverance, hard work, self-improvement, dreaming big and always advocating for yourself. I wouldn't be where I am today without her influence.
Q: This year, we're excited to see our country's first female Vice President in office. Can you share an impactful first for you in your work life?
One of my impactful firsts in my work life was the first time I got to lead an acquisition transaction without a senior associate. It was for a client I'd worked with several times before. I was honored that they felt comfortable having me lead the transaction because it meant that they trusted me and had faith that I could deliver without a more senior attorney there to guide me. It really gave me confidence that helped push me to the next level in my career.
Archives