Receiving a tax refund check might leave you wondering, "How can I cash the check?"
If you need the cash now and want a store with longer hours than a brick-and-mortar bank, ACE Cash Express could be your best option. You can visit an ACE Cash Express location to receive your refund quickly and easily in cash.1
In this blog, you'll learn some of the reasons you should cash your tax refund check at ACE.
How long does it take to get my tax refund?
According to the IRS, you will likely receive your federal tax refund in less than three weeks after you electronically file your tax return. It may take a few more days for the check to reach you by mail.
If you still haven't received your check in that timeframe, you can check the status of your return with the Where's My Refund? Tool. The IRS will also reach out if they need more information to process your tax return.
Where can I take my tax refund check?
As soon as you receive your tax refund check in the mail, you can immediately bring it to the nearest ACE Cash Express location. ACE can cash your tax refund quickly and easily, even if you've never been an ACE customer before.1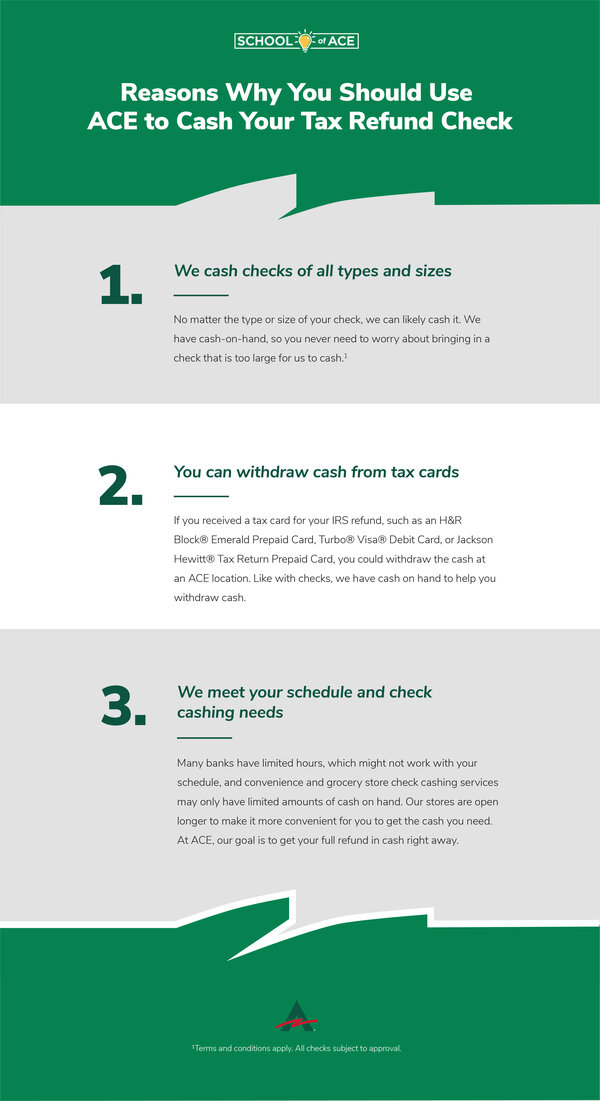 3 reasons to use ACE to cash your tax refund check
At ACE, we are committed to making financial services easy. When you get your tax refund check, all you need to do is bring the check and a government-issued photo ID to the nearest store. The process may take just minutes and you can walk out with your cash in hand! 1
1. We cash checks of all types and sizes
No matter the type or size of your check, we can likely cash it. We have cash-on-hand, so you never need to worry about bringing in a check that is too large for us to cash.1
ACE can cash most government-issued checks, including federal and state refund checks and checks issued by tax preparation companies, such as Jackson Hewitt® and H&R Block®.
2. You can withdraw cash from tax cards
If you received a tax card for your IRS refund, such as an H&R Block® Emerald Prepaid Card, Turbo® Visa® Debit Card, or Jackson Hewitt® Tax Return Prepaid Card, you could withdraw the cash at an ACE location. Like with checks, we have cash on hand to help you withdraw cash.
3. We meet your schedule and check cashing needs
Many banks have limited hours, which might not work with your schedule, and convenience and grocery store check cashing services may only have limited amounts of cash on hand. Rather than waiting for a convenient time to access your refund, take advantage of our longer hours to quickly get the cash you need. At ACE, our goal is to get your full refund in cash right away.