Let's Stop Coupon Shaming!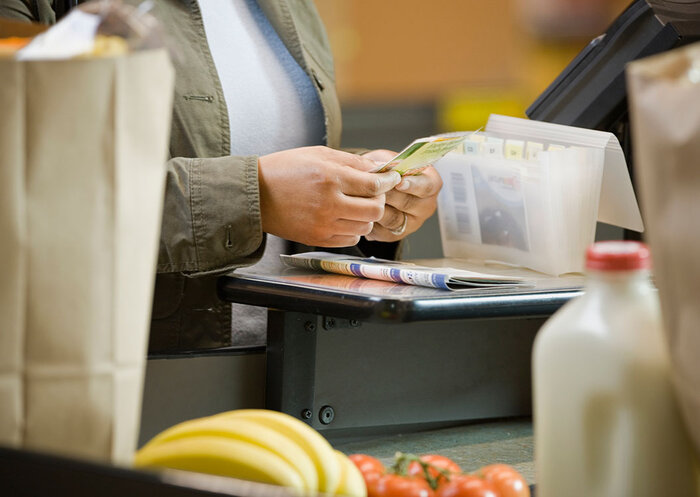 We all know the stereotype of people who use coupons: the customer at the grocery store who's holding up the line while searching through their clipped coupons to save a few cents. But while some people dislike those who always use coupons, the reality is that shoppers can save up to $2,600 a year with the help of coupons.[1] Coupons are an excellent way to save money on items or brands you're already buying. Here's everything you need to know to get started:
How Coupons Help You Save
The way coupons work is pretty simple: you present the coupon when you purchase the item and in return you receive a discount on the price.[2] Coupons come with a bit of fine print, however. Manufacturer coupons can be used at any store that accepts them, for instance, while store coupons can only be used at the store that issues them. Store coupons also usually have an expiration date or a limit on the number of items you can buy with them.[3]
With the rise in online shopping, many coupons are now available in digital form as well as physical. Online coupons may require you to enter a coupon code or promo code in to receive your discount. These coupons usually cover discounts such as a dollar amount or percentage off your total price, free qualifying shipping, or a free gift or gift card with your order.[4]
Where to Find Coupons
Newspapers
If you're looking for coupons to help you save at your local grocery store, look no further than your Sunday paper. Most weeks, local papers include coupon booklets in their Sunday edition, giving you coupons from a variety of products.[5]
Coupon Apps
There's an app for everything, and coupons are no exception. Coupon apps like Ibotta, will give you cash back at many different stores such as Walmart, Target, or Kroger. All you have to do is download the app and look for the savings on product offers from your favorite stores.[6] SnipSnap is another helpful coupon app that lets you search online for coupons and download them into the app.[7] This is a great option to collect all your coupons in one digital location instead of having to carry around a heap of physical coupons.
Coupon Websites
If you've got a printer and you're looking for a way to save, there are websites where you can search for and print out coupons. Coupons.com hosts a collection of grocery coupons for all sorts of items, from Advil to popsicles.[8]
Online Tools
Honey
It's even easier to use coupons when shopping online with the help of online tools that automatically search for discounts. Honey is a website browser extension that automatically finds and applies different coupons or promo codes when you checkout. Honey even has a cool feature that monitors the recent price changes of items to tell you whether or not this is the best time to buy.[9]
Rakuten Rewards
Rakuten (formerly known as Ebates) is a cash-back and rewards company that makes it easy to save online special coupons and promo codes. Just add the Rakuten extension to your browser to start saving. You can earn even earn cash back on purchases from a wide variety of brands, including Walmart, Target, Kohl's, Macy's, and many more.
RetailMeNot
RetailMeNot is both a website and app that has a collection of 500,000 offers from over 50,000 different brands and retailers. Their Genie plug-in serves the same function as Honey by notifying you of discounts during online checkout. Their app will also notify you when there's a discount at nearby physical retail locations.[10]
CouponCabin
CouponCabin.com is a website and app that lets you print out coupons in addition to using online promo codes. Like the above online tools, their browser extension CouponCabin Sidekick notifies you of discounts during checkout. Unlike Honey and RetailMeNot, Coupon Cabin gives their members exclusive offers from a selection of stores.[11]
Making smart financial decisions is always in style, which is why it's time to embrace the art of the coupon and make the most of your money. Whether you're setting financial goals or trying to find last-minute gifts on a budget, ACE Cash Express is here to help.
[1] https://www.thebalanceeveryday.com/why-consumers-should-use-coupons-939628#:~:text=Shoppers%20using%20CPG%20coupons%20saved,is%20three%20percent%2C%20or%20%241%2C248.
[2] https://money.howstuffworks.com/personal-finance/budgeting/question426.htm#:~:text=You%20cut%20coupons%20out%20of,as%20though%20it%20were%20cash.
[3] https://thecouponproject.com/how-to-use-coupons-understanding-how-they-work/
[4] https://www.dealnews.com/features/coupons/#:~:text=Online%20coupons%20commonly%20require%20a,to%20specific%20items%20or%20categories.
[5] https://thekrazycouponlady.com/tips/couponing/a-comprehensive-guide-to-sunday-newspaper-coupons
[6] https://ibotta.com/register?af_sub1=Thrifty%20Nomads.&pid=impactradius_int&af_click_lookback=1d&utm_source=impactradius_web&utm_medium=affiliate&utm_campaign=362413&clickid=yVi3ml2NYxyLR8M0EkzjZTwgUkEz892Fr2W4XA0&irclickid=yVi3ml2NYxyLR8M0EkzjZTwgUkEz892Fr2W4XA0&irgwc=1&c=362413
[7] https://apps.apple.com/us/app/snipsnap-coupon-app/id516439697
[8] https://www.coupons.com/
[9] https://www.joinhoney.com/explore
[10] https://www.retailmenot.com/
[11] https://www.couponcabin.com/