Who doesn't love a good deal? For extreme couponers, the thrill of saving money can lead to larger-than-life results. Ever wondered what it's like to take couponing to the next level? We talked with Briana Hernandez, Digital Marketing Manager for a national financial services company to hear her story.
Briana is a digital guru who helps manage online marketing opportunities. She's also a wife and mother of two! She put her SEO skills to work to establish a popular YouTube channel called "How to Xtreme Coupon" that helped her land a role on the TV show "Extreme Couponing." Fun fact: her marriage proposal was featured on the show!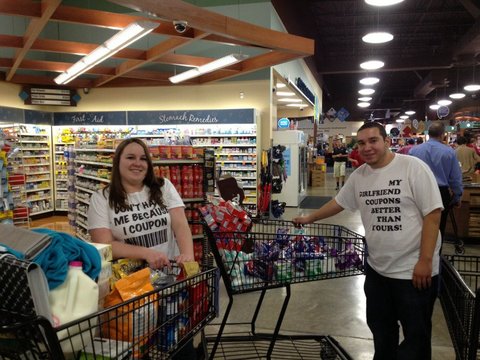 Briana and her now-husband waiting in the checkout line on the TV show "Extreme Couponing"
Briana's prime time debut started with a simple love of saving. "I've always had an interest in saving money. It was kind of a game to me!"
Her curiosity piqued when she began following couponing websites, including The Krazy Coupon Lady and Southern Savers.
"I noticed that they always featured free items and super-good deals on different personal items. I thought 'hey, maybe I can try to do what they do.'"
Want to save more when you shop for your home? Take some advice from a professional!
How to Start Couponing – Briana's Advice
1. Take Advantage of In-Store Savings
Briana notes that the best couponing opportunities are specific to individual stores. If you want to get started on a couponing journey, be prepared to shop at different places.
"You usually can't just go to one store and do all of your coupon shopping there, because different stores have different deals." When she shopped, Briana started at drugstores using in-store coupon flyers, combined with offers she had from loyalty programs and newspapers.
2. Be Mindful of Sale Cycles and Seasons
"Most stores have a sales cycle of 6 weeks," says Briana. "Stores will have one item at its lowest price in a general six-week period. For instance, if you're buying cereal and you're not shopping for a specific brand, you may find a brand on sale for $1 this week, and you'll know that this is the lowest this price will get. You can stock up on that cereal brand and watch the prices for the next six weeks when another brand will then be at its lowest price."
Sale prices vary by season as well. "Depending on the time of year, you can find different deals and sales cycles on items. Let's say you're shopping for back to school supplies. The best season to shop is from June to July, a bit before school starts."
When shopping for seasonal items, Briana recommends stocking up on items to carry you through the next season, too.
"Stores will advertise big deals on back to school stuff in late summer, but that's not the only time your kids need new supplies. Don't forget about spring! Take advantage of summer deals and double up on supplies to carry you through the busy after-holiday school season, too."
3. Stock up on Coupons
Conducting research was a huge part of Briana's couponing life. She says it's essential for staying on top of great deals.
"I would generally start with newspapers every week, but there are so many places online that can help, too. You can check out magazines like Red Plum and Smart Source that always have the latest coupon offers." Compare new deals with last week's sales to see if prices are trending up or down on items that you need.
Get started by focusing on just a few items on your shopping list, rather than trying to jump right into extreme savings. You may focus on items you and your family often buy, like shampoo, soap, bread, milk, eggs, or other everyday items.
With practice, you'll begin to recognize when prices are at their lowest. Then, it's time to start shopping.
4. Get Savvy with Coupon Stacking
If you've ever watched a couponing show, you've seen those magical moments when a couponer walks away with more money than they started with in the form of coupon refunds. Briana notes that most stores have fine print that prevents those kinds of situations today, but you can still walk away paying only pennies with one trick: coupon stacking.
"It works like this: a store has a sale on an item, and then you have a coupon for that item from the brand or manufacturer. The store honors the coupon on top of their sale price, and you can end up saving way more, or sometimes even getting items for free!"
You can start by picking up in-store sales flyers at drugstores or grocery stores. Then, look for manufacturer coupons online or in newspapers for the key items on which you want to save. Use both coupons together to stack up your savings.
5. Stack Up and Stock Up
Because of the way coupons often work, you can end up saving more when you buy more products. That makes it easy to walk away with more than what you need. To combat over-purchasing, Briana recommends spreading the saving to others.
"I have a closet full of kids toys that I've bought during big sales in anticipation of the holidays," she says. "Whenever my kids get invited to a birthday party, I always have a gift ready."
Briana has even used her couponing purchases to create fun gift baskets for loved ones. "It's always a popular item, and people love them!"
Couponing has made it easy for her to give back to her community in a surprising way, as well. "In the past I never bought toothpaste. If I couldn't get it for free, it just wasn't worth it to me! I knew there would be a sale cycle, and I could stack a sale with a coupon and get free toothpaste. Of course, I ended up with way more toothpaste than I could ever use, so I would end up donating a lot to charity."
Avoid over-purchasing by using the coupon stacking method on non-perishable items or personal items you use regularly. Then, pass the savings along to others!
Briana's "Extreme Couponing" haul – check out all that toothpaste and lotion!
Even if you don't want to take couponing to the extreme, you can put some of Briana's savings tips to use! Let us know how you use coupons by joining the conversation on the official ACE Cash Express Facebook page.